Echinocereus pectinatus rubispinus
(This plant comes in a 3.5" pot. You will receive a very similar plant to the one in the picture. It may or may not be blooming at the time of your purchase. The plant is shipped in its pot to prevent any damage to the roots).
Originating in Mexico, this gorgeous cactus has very short reddish purple spines, and dark lobes. When it blossoms it creates beautiful bright magenta/purple flowers with a yellow inside.

Recommended temperature zone: Sunset: 9b-11
Frost tolerance: Light frost only
Minimum avg. temperature: 50°F (10°C)
Sun exposure: Full sun
Origin: Mexico (Chihuahua)
Growth habits: Generally solitary, up to 8" tall (20 cm), up to 2" in diameter (5 cm)
Watering needs: Rot prone, keep dry in winter.
Propagation: Seeds
Some of the information in this description has been found at desert-tropicals.com, llifle.com and cactus-art.biz
| | |
| --- | --- |
| Blooming Season | Spring |
| Common Name | Molted candle stick tree |
| Dormancy | Winter |
| Flower | Yellow |
| Frost Tolerance | -6.7 |
| Growth Rate | Slow |
| Hardiness Zone | 10 to 11 |
| Height | 15 cm |
| Origin | Asia |
| Scientific Name | Echinocereus pectinatus rubispinus |
| Shape | Branching cylindrical shaped |
| Sun Exposure | Full sun |
Customer Reviews
Write a Review
Ask a Question
12/21/2021
Mike B.

United States
Possible growth defect
Arrived fast and was packaged very well. Removed the packaging and noticed the cactus looked deformed. I'm not real familiar with this species so it may be normal, just never seen a cactus grow crooked like this one.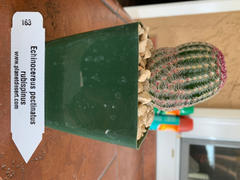 We regret to hear you are not completely satisfied with your plant. I will email you for follow up on options for you.
09/20/2021
Susan S.

United States
healthy
I wish it was a little bigger, but it's very healthy and will grow
09/09/2021
Linda M.

United States
Beautigul Color
Timely shipping, arrived well packed and safe. Healthy plant.
08/22/2021
David C.

United States
Echinocereus pectinatus rubispinus
Very nice plant.a little small but looks in good health.
07/29/2021
Anonymous

United States
Successful purchase
My cacti came in perfect condition and healthy. I love the look of it, I think it is very pretty. I will never stop order from you guys