Astrofitum mirostigma
(This plant comes in a 3.5" pot. You will receive a very similar plant to the one in the picture. It may or may not be blooming at the time of your purchase. The plant is shipped in its pot to prevent any damage to the roots).
This gorgeous plant is known for its vertical ribs along the side of rib. The name astrophytum means start plant, because of its start like shape. As the cactus ages the ribs becomes more prominent and it also gets more into a cylindrical shape. It grows up to 70-100 cm tall and 10-20 cm in diameter.

Recommended temperature zone: USDA: 9b-10
Frost tolerance: Hardy to 20° F (-6°C)
Sun exposure: Light shade
Origin: Mexico (Querétaro, Hidalgo)
Watering Needs: Moderate water in summer. Allow the soil to dry before watering again. Do not water in winter.
Propagation: Seeds that germinate rapidly.
Blooming habits: The Astrophytum ornatum blooms in summer. The 2.5" wide flowers (6 cm) are pale yellow and scented. It needs to be 6" tall to bloom (15 cm). This might take six years or more depending on the length of its growing period in your local conditions.
Some of the information in this description has been found at desert-tropicals.com, llifle.com and cactus-art.biz
Customer Reviews
Write a Review
Ask a Question
09/08/2020
Jimmie L.
United States
Most Pleased
Excellent packaging, totally stable, not one loose piece of medium. Was initially doubtful with the cost of shipping but it arrived in 3 days in perfect condition, so it is definitely worth the little premium price. Bishops Cap was healthy with very good color! Let it stabilize for 2 weeks & transplanted today in it's own decorative pot. Looks happy & handsome. Will use Planet Desert with confidence in the future.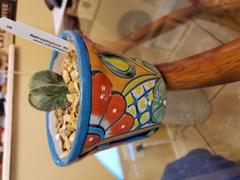 09/03/2020
Kaitlyn P.
United States
Great plant but very few roots
The plant looks good and healthy. Exactly as pictured. When I started the repotting process, I always check the condition of the roots, this plant had very few. I put it in a small pot until it gets established again. The cactus will recover fine. If this happens to you, please remember to water according to the roots. If there are very few roots, water very sparingly, or you will cause rot to set in. I love this company and understand that this was completely unknown to them. They ship in the pot. I will ALWAYS be a returning customer!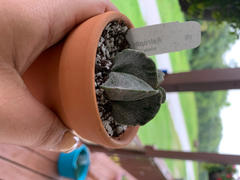 07/02/2020
Milton S.
United States
Excellent experience
Thank you again for the beautiful cacti and succulents
06/24/2020
Bryce R.
United States
Perfect. Very Happy!
First time customer and very satisfied! I ordered 3 cactus including this one. I was apprehensive about getting live plants shipped across the country, however I am very pleased to say it went very well. They were well wrapped and packed. Arrived very quickly as well. They all shipped on Monday 6/22 and arrived safely to my home in KY on 6/24. Cactus is healthy and vibrant. I am so happy I found a source for my cactus addiction, and will be a return customer for sure.