Aeonium haworthii kiwi
(This plant comes in a 3.5" pot. You will receive a very similar plant to the one in the picture. It may or may not be blooming at the time of your purchase. The plant is shipped in its pot to prevent any damage to the roots).
Aeonium haworthii, also called as "Kiwi" and "Pinwheel", is a very durable branching succulent. Originating in the Canary Islands can grow up to 24 inches tall with an equal spread.It has rosettes of blue/green leaves with orange accents. The flowers that develop in the late spring, are very pale yellow that are occasionally accented with pink. This succulent is a long lived and tough plant that is good in various climates and environments.

Recommended temperature zone: Sunset: 15-17, 20-24, USDA: 9b-10
Frost tolerance: Hardy to 25°F (-4°C)
Minimum avg. temperature: 50°F (10°C)
Heat tolerance: Questionable, needs light shade to shade in summer
Sun exposure: Light shade to full sun
Origin: Canary Islands (Tenerife) around 2000' elevation (600m)
Growth habits: Bushy succulent, up to 10" tall (25 cm)
Watering needs: Infrequent deep watering
Some of the information in this description has been found at desert-tropicals.com, llifle.com and cactus-art.biz
Customer Reviews
Write a Review
Ask a Question
07/07/2020
Ming

United States
Surprisingly
Kiwi comes in surprisingly with "branches". I actually just so happy when I see it. It looks so different. The color might be too green because I don't have it facing direct sun light yet. However, it just looks so great! I wish all of succulents I ordered cake to me like it haha. Thank you! Picture taking 3 weeks after receiving the plant.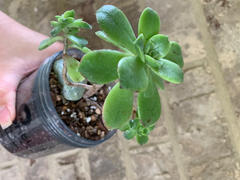 11/09/2019
Frances C.

United States
Shipped by people who care
I will order from you again. All th plants were thriving. I saved the leaves that did fall or break off as cuttings. No luck propagating so far, but one plant seems to have survived transplantation. This particular plant is doing well