Aeonium Haworthii Kiwi
(This plant comes in a 3.5" pot. You will receive a very similar plant to the one in the picture. It may or may not be blooming at the time of your purchase. The plant is shipped in its pot to prevent any damage to the roots).
Famous by its common name 'Aeonium kiwi,' the Aeonium Haworthii belongs to the Crassulaceae family. This summer-dormant succulent has its origin in the Canary Islands. The Aeonium kiwi rarely grows beyond the height of 60cm to 90cm. With full sun exposure, the tip of the leaves turns red, while in partial shade, the spoon-like leaves in variegated rosette shape are a mix of vibrant yellow and green.
Growth Rate
The kiwi succulent grows at a slow rate in the outdoors and indoors. It grows in a small pot or a big planter to fill the entire space when placed indoors. In the outdoors, the plant grows in shrubs.
Flowering
During the blooming season that is winter and spring, the tri-color Aeonium Kiwi bears yellow-colored flowers.
Watering and Feeding
During the dormant season, that is, summer, the kiwi cutting does not require watering until it is too dry whereas, during winters, the succulent requires enough water to stay hydrated. During the growing season, Aeonium kiwi requires moderate watering and liquid feed once every two weeks.
Soil
Aeonium Kiwi requires well-drained soil for healthy growth. Even in poor soil conditions, like sandy and dry soil, the succulent does not disappoint.
Hardiness
Aeonium Haworthii Kiwi has a frost tolerance level of -1.1° C (30.02° F). The hardiness zone for this plant is 9a to 11b.
Light
The kiwi succulent requires full and direct sunlight to grow and stay healthy. As a potted houseplant, it should be placed near windows for indirect sunlight.
How to propagate Aeonium kiwi?
Cutting of the rosette stem-tip is ideal for propagation.
Aeonium Haworthii Kiwi is an excellent choice for a succulent or a rock garden. The tri-color can be a show-stopper on the window sill too. Not too demanding, it needs enough water and sunlight to maintain its colorful beauty.
Some of the information in this description has been found at desert-tropicals.com, llifle.com and cactus-art.biz
| | |
| --- | --- |
| Blooming Season | Winter and spring |
| Common Name | Aeonium kiwi |
| Dormancy | Summer |
| Family | Crassulaceae |
| Flower | Yellow |
| Frost Tolerance | -1.1°c |
| Growth Rate | slow |
| Hardiness Zone | 9a to 11b |
| Height | 60cm – 90cm |
| Origin | Canary islands |
| Pot Size | 3.5" |
| Scientific Name | Aeonium haworthii kiwi |
| Shape | Rosette |
| Sun Exposure | Full sun to partial shade |
Customer Reviews
Write a Review
Ask a Question
07/07/2020
Ming

United States
Surprisingly
Kiwi comes in surprisingly with "branches". I actually just so happy when I see it. It looks so different. The color might be too green because I don't have it facing direct sun light yet. However, it just looks so great! I wish all of succulents I ordered cake to me like it haha. Thank you! Picture taking 3 weeks after receiving the plant.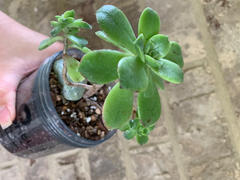 11/09/2019
Frances C.

United States
Shipped by people who care
I will order from you again. All th plants were thriving. I saved the leaves that did fall or break off as cuttings. No luck propagating so far, but one plant seems to have survived transplantation. This particular plant is doing well