The common name of Crassula Tetragona is "Miniature Pine Tree". The plants grow up as shrubs with thick stems and needle-like foliage. As they age, they grow up to 6 to 12 inches in height. The South African origin succulent belongs to the Crassulaceae family and is known for its fast growth rate. For a happy augmentation, this summer-dormant plant requires full sun exposure to partial shade.
Growth Rate
Miniature pine trees are characterized by a fast growth rate and are relatively easy to grow.
Flowering
During late spring or early summer, white or near-white flowers appear in clusters on branch tips.
Watering and Feeding
Just like other succulents, overwatering Crassula tetragona can be fatal. The plant should never be allowed to sit in water.
Soil
Use succulent potting soil for best growth. Ensure well-drained pots so that water does not stand.
Hardiness
The hardiness zone of Miniature pine trees is between 10a to 11. As this succulent cannot tolerate hard frost, it is better to plant it indoors if the outdoor temperatures start to freeze.
Light
This variety of Crassula requires full to partial sun exposure for healthy growth.
Propagation
Crassula tetragona propagation can be done from leaf cuttings and offsets. It can be propagated from a single leaf too.
Crassula Tetragona or Miniature Pine Tree grows happily wherever placed. With its unique and attractive shape, it makes any setting look the best.
Some of the information in this description has been found at desert-tropicals.com, llifle.com and cactus-art.biz
| | |
| --- | --- |
| Blooming Season | Late spring/early summer |
| Common Name | Miniature pine tree |
| Dormancy | Summer |
| Family | Crassulaceae |
| Flower | White/near white |
| Frost Tolerance | 25-30° F |
| Growth Rate | Fast growth |
| Hardiness Zone | 10a to 11 |
| Height | 6-12 in |
| Origin | South africa |
| Pot Size | 3.5" |
| Scientific Name | Crassula tetragona |
| Shape | Columnar |
| Sun Exposure | Full sun to partial shade |
Customer Reviews
Write a Review
Ask a Question
02/03/2022
Scott B.

United States
Great Plants, Great Service
I have purchased a number of plants in the past few months and Planet Desert takes great care in shipping, contacting you if there is an issue with something you ordered, shipping quickly, and the plants always arrive in great shape.
10/28/2020
B D.

United States
This seller does everything right!
100% recommend this seller! especially for this purchase..(meaning this plant) It was 4 times the plant I expected.. completely blew away exceeded expectations. I got a healthy four stemmed "group" of "trees"....4! One starter plant would have made me happy.. four! So thankful. also realizing I didn't look close at the photographs because it clearly shows a solid group of four. Also amazing shipping practices!! I have nothing negative to say.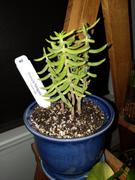 06/30/2020
William G.

United States
I have this plant
I have now had this plant through most of the spring and into summer and I have really enjoyed growing this plant. It has gotten pretty large in its relatively small terra cotta pot. It now measures about 4 1/2 inches tall with an upright growth habit. It is really looking good as the picture will show.
Beautiful plant. thank you very much!
Beautiful plant. thank you very much!