Crassula tetragona
(This plant comes in a 3.5" pot. You will receive a very similar plant to the one in the picture. It may or may not be blooming at the time of your purchase. The plant is shipped in its pot to prevent any damage to the roots).
Crassula tetragona is a succulent plant native to Southern Africa. It is popularly named the "miniature pine tree" among ornamental plant enthusiasts, for its popular use as a "pine tree" in Bonsai.
Some of the information in this description has been found at desert-tropicals.com, llifle.com and cactus-art.biz
Customer Reviews
Write a Review
Ask a Question
10/28/2020
B D.

United States
This seller does everything right!
100% recommend this seller! especially for this purchase..(meaning this plant) It was 4 times the plant I expected.. completely blew away exceeded expectations. I got a healthy four stemmed "group" of "trees"....4! One starter plant would have made me happy.. four! So thankful. also realizing I didn't look close at the photographs because it clearly shows a solid group of four. Also amazing shipping practices!! I have nothing negative to say.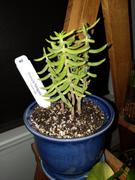 06/30/2020
William G.

United States
I have this plant
I have now had this plant through most of the spring and into summer and I have really enjoyed growing this plant. It has gotten pretty large in its relatively small terra cotta pot. It now measures about 4 1/2 inches tall with an upright growth habit. It is really looking good as the picture will show.