Dudleya brittonii
(This plant comes in a 3.5" pot. You will receive a very similar plant to the one in the picture. It may or may not be blooming at the time of your purchase. The plant is shipped in its pot to prevent any damage to the roots).
Also known as Giant Chalk Dudleya, this magnificent succulent is a solitary or low slowly-clumping succulent. It has a beautiful chalky-white leaves that can grow about 12 to 18" wide. Yellow flowers begin to open in late spring to early summer.
Some of the information in this description has been found at desert-tropicals.com, llifle.com and cactus-art.biz
| | |
| --- | --- |
| Blooming Season | Spring (early |
| Common Name | Chinoa |
| Dormancy | Summer |
| Family | Crassulaceae |
| Flower | Pale yellow |
| Frost Tolerance | 18 F |
| Growth Rate | Slow growth |
| Hardiness Zone | 9 – 12 |
| Height | 18 in |
| Origin | Mexico |
| Pot Size | 3.5" |
| Scientific Name | Dudleya brittonii |
| Shape | Spoon-shaped |
| Sun Exposure | Full sun |
Customer Reviews
Write a Review
Ask a Question
08/18/2022
Melissa H.

United States
Beauty
When I first unpacked it, I wasn't sure how it was. It seemed a little sad. But I planted it and now it looks just like this picture. I'm very pleased and excited to see it grow!
05/19/2022
Barbara T.

United States
Dudleyas
Terrific, large, good looking plants.
05/02/2022
Mary C.

United States
Dudleya Brittonii
I repoted the plant because it needed more space to grow ! Its starting to get dark green little each day in the sun and wind out doors in my garden. When I received the plant some of the Stems were bent and fell off. I save them and planted the steams. I Like plants from Planet Dessert !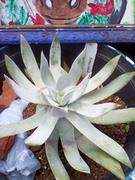 04/29/2022
Karin S.

United States
I recommend this product
Nice large plant , in great shape. Packed...
Nice large plant , in great shape. Packed very well.
04/03/2022
Steve

United States
Dudlieya
Excellent. Well packed healthy plant larger than I imagined it would be. Now planted Jin my garden and thriving. I'm a very satisfied customer.