Ebracteola wilmaniae purple
(This plant comes in a 3.5 inch pot. You will receive a very similar plant to the one in the picture. It may or may not be blooming at the time of your purchase. The plant is shipped in its pot to prevent any damage to the roots).
A common name is Prince Albert Vygie.

Ebracteola has a gorgeous, thick root system and when it is potted up, the plant can be progressively raised over the ground so that some of the roots can be seen and is especially cultivated for their looks. Architecturally it is a real stunner. When the "caudex" shape of the raised roots is adequately in evidence this plant is incomparable. They also tend to grow more "heads" when they are raised.

Cultivation and propagation: It is easy to grow and rewarding plants than can be grown in pots or in the rock-garden. They can be watered year-round, water regularly from spring to Autumn but reduce watering frequency in winter. Growth period is early Spring to late Summer. Keep them cool, and half-shaded in summer, needs full sun or light shade during the other seasons. Requires good drainage.

Frost tolerance: quite frost hardy and grows best where there are cold winters (it is reported to be hardy to at least -10° C if very dry).
Some of the information in this description has been found at desert-tropicals.com, llifle.com and cactus-art.biz
Customer Reviews
Write a Review
Ask a Question
Ebracteola
Beautiful and healthy plant. Packaged very carefully, I was very happy with this plant purchase.
08/07/2021
Shelley B.

United States
Love it!
Love this plant. Bigger than I thought it would be and so pretty.
06/27/2020
William G.

United States
I have this plant
Well I like the plant and it is growing well out on the deck in a small terra cotta pot. I really think the plant is very nice and I have now had it for a few months as this was purchased this Spring. I hope to see some flowers and keeping it going for years to come. Here is a picture of my plant from a few days ago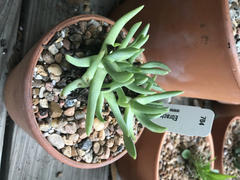 02/26/2020
Karen M.

United States
I like the flower
I have had bad luck with keeping it alive as an indoor plant. Should it be planted outside in the sun?