This cactus, nicknamed the brain plant, is a beautiful and unique cactus to add to your collection. The cactus features vertical ripples, long spines, and will bloom large pink flowers. This cactus is sent to you in a 3.5" pot to avoid root damage and will look similar to the plant in these pictures. It may or may not be blooming when you receive your plant.

This plant is small growing cactus and easy to take care of, because of its size it makes a great potted plant specimen. It needs good drainage and is great for beginning collectors.

Details:
Recommended Temperature Zone: USDA: 9b-11
Frost tolerance: Hardy to 25°F (-4°C)
Sun exposure: Some direct sun
Origin: Mexico (Guanajuato, Hidalgo, San Luis Potosí, Zacatecas)
This beautiful cactus is a great addition to your collection. It is an easy plant to care for and is fun to watch bloom. Shop more cacti and succulents from Planet Desert!

Some of the information in this description has been found at desert-tropicals.com, llifle.com and cactus-art.biz
| | |
| --- | --- |
| Blooming Season | Spring and summer. |
| Common Name | Brain cactus |
| Dormancy | Winter |
| Flower | White |
| Frost Tolerance | -5°c |
| Growth Rate | Slow |
| Hardiness Zone | 9b to 11 |
| Height | 2.5 in |
| Origin | Mexico |
| Scientific Name | Echinofossulocactus multicostatus |
| Shape | Wrinkled look to its near globular shape |
| Sun Exposure | Full sun |
Customer Reviews
Write a Review
Ask a Question
11/11/2021
Fusun A.

United States
Best online experience ever!
I love all five cacti that I received three days after I placed the order! This brain cactus is smallish but looks in great shape. The pot and top dressing are perfect for now. I will not have to repot it until spring, which is a relief. Many thanks to Ana of Cactus Caffeine for pointing out this nursery and thanks to Planet Desert for restoring the Search bar as soon as I requested it. What a lovely community to be in :-)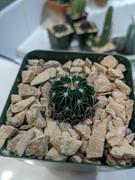 08/25/2021
Magaly B.

United States
08/21/2021
Patricia F.

United States
Brain plant
Plant arrived in good shape, as usual with this company, and I am sure the flowers will be worth the wait.
08/01/2021
Sonja W.

United States
Smaller than Advertised- but good condition
So apparently I didn't read the reviews before purchasing….The plant arrived in great condition BUT this and the astrophytum I ordered were tiny plants potted in way too big of pots. Since listings are done by pot size it seemed a bit shady to list them that way. Definitely would not have paid this price in person but that's what I get for ordering online. Passed up a fist size astrophytum in my city that was the same price as the tiny one I ordered from here because I had not yet received my order. Womp womp. Lesson learned.
07/15/2021
Leigh A.

United States
Beautiful,healthy,quality cactus!
I don't know where to begin! This is AMAZING! I will start by saying I collect cactus. Out of many online experiences that went incredibly bad I had lost all hope to finding a good online shop. NOT ANYMORE PLANET DESERT TO THE RESCUE! it quickly arrived. they wrapped so well not even a pebble rock was out of place! These cactus were stunningly beautiful!!! My photos won't do them justice! Some had beautiful flower stems just ready to open! Amazed! I'd give a million stars if I could! ❤️ The newest, forever Planet Desert top fan!!!! Happy growing! ❤️