Ferocactus glaucescens inermis blue barrel
(This plant comes in a 3.5 inch pot. All of our plants are grown under the same conditions, although not all the plants are the same. You will receive a similar plant in size and shape to the ones in the pictures. Our plants are hand-picked and carefully selected to bring you the best quality possible. Please allow us up to 3 business days to process your order. If you wish to receive your order on a specific date, or have special instructions, please add a note at the checkout . The plant is shipped in its pot to prevent any damage to the roots).
Ferocactus glaucesens inermis


Origin and Habitat: Eastern central Mexico,

Also known as blue barrel cactus, Ferocactus glaucescens is a medium sized solitary or basally suckering, barrel cactus. Multiple heads are produced as the plant ages and can form a very large mound.
Stems: Glaucous grey, up to 55 cm in height, 50 cm in diameter
Flowers: Lemon yellow,
Blooming season: Late spring and summer. The flowers last a very long time. The plants start flowering when about 13 cm in diameter.

Cultivation and Propagation: Plants are slow growing to start, but are easy to grow and require little care once they have reached a nice flowering size. F. glaucescens is suited for any rich, well drained soil in full sun, through-out the year. Pot culture: It grows best in a fairly roomy, well-drained container filled with a porous cactus soil mixture that doesn't contain too much humus. A wet cactus in the sun light can cause sun burning which can lead to scars, or even fungal infections and death. In winter keep completely dry at 10°C. This usually aids in maintaining a healthier plant, but it can tolerate sporadic light frost.
Some of the information in this description has been found at desert-tropicals.com, llifle.com and cactus-art.biz
| | |
| --- | --- |
| Blooming Season | Late winter/early spring |
| Common Name | Nude blue barrel cactus |
| Dormancy | Winter |
| Family | Cactaceae |
| Flower | Bright yellow |
| Frost Tolerance | 10°c |
| Growth Rate | Slow growth |
| Hardiness Zone | 10a to 11 |
| Height | 6-12 in. (15-30 Cm) |
| Origin | Eastern central mexico |
| Pot Size | 3.5" |
| Scientific Name | Ferocactus glaucescens inermis blue barrel |
| Shape | Globose |
| Sun Exposure | Full sun to partial shade |
Customer Reviews
Write a Review
Ask a Question
06/01/2022
Carol

United States
Ferocactus Inermis isn't Ferocious
Without the wild spines Ferocacti are renowned for, Ferocactus inermis is friendly to the touch, not at all ferocious. Its bare stem appears sculpted, and if dust blows on it, it is easy to wipe off. From exposure to the sun, the color has changed from blue-green to yellow-green, but it's still beautiful.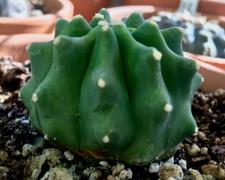 10/11/2021
Cherryl G.

United States
Cute
Interesting to see what they will look like when they grow
01/14/2021
Cathie K.

United States
Blue Cactus
I love ripples in this cactus! Not spiny.
10/30/2020
Mary S.

United States
Looked great when it arrived
I've always been very happy with my purchases. I'm having a problem with my cat pulling them out of the pot, she has pulled this one out twice now. I'm hoping it will survive.