(This plant comes in a 3.5 inch pot. All our plants are grown under the same conditions, although not all the plants are the same. You will receive a similar plant in size and shape to the ones in the pictures. Our plants are hand-picked and carefully selected to bring you the best quality possible. Please allow us up to 3 business days to process your order. If you wish to receive your order on a specific date, or have special instructions, please add a note at the checkout. The plant is shipped in its pot to prevent any damage to the roots.)
Native to the coastal mountains of south-eastern Brazil, sclumbergera bridgesii is a popular unusual cactus with dark-green flattened stems divided into leaf-like segments. Fuchsia-like flowers appear in winter from the notches in stems or the tips and last a long time. They are perfectly symmetrical, carmine red, and a shade of pink-purple in the center. This holiday cactus will drop its flower buds when it's stressed from dry soil, low light, blasts of cold air from doorways or repotting while it's in bloom. Once buds set, don't move your plant around. Changes in light and temperature (besides nightly fluctuations) may cause blooms to fall off. 
Repotting Christmas cactus is usually only necessary every 2 to 3 years. Christmas cactus prefers to be slightly pot-bound and blooms best this way. Wait till spring or early summer to repot -- never while it's budding and blooming, which can cause them to drop.
Hardiness Zones: 9a to 11b (20-50 degrees F)
Some of the information in this description has been found at desert-tropicals.com, llifle.com and cactus-art.biz
Customer Reviews
Write a Review
Ask a Question
04/28/2022
Shelly C.

United States
She's a Beauty
I purchased 2 different Christmas cactus and both arrived wrapped with care and in awesome condition. I transplanted them to an inch larger concrete pot and they tolerated it beautifully! I have them for 3 weeks now and they're thriving! Thank you for a wonderful buying experience and for the free "Greg" membership! I'm loving that app also. In the words of Arnold Schwarzenegger, "I'll be back."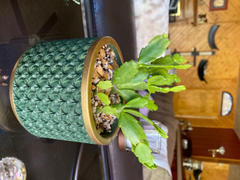 A plant that makes you feel wonderful. Having a great time
They're having a great time in our sunroom till spring arrives!