tenocereus thurberi, the organ pipe cactus, is a species of cactus native to Mexico and the United States. The species is found in rocky desert.
Its English common name is derived from its resemblance to a pipe organ. It is locally known as pitaya dulce, Spanish for "sweet pitaya" or sweet cactus fruit.
This cactus species has several narrow stems that rise vertically, growing from a single short trunk just above the ground level. These stems are about 6 inches (15 cm) thick and grow to a height of 16 feet (4.9 m), however it has been known to reach 23 to 26 feet (7.0 to 7.9 metres).These stems rarely branch but rather grow annually from the tip of the last growth. The mature plant can reach a width of 12 feet (3.7 m). Each stem has 12 to 19 1⁄3 inch (0.85 cm) high ribs that bear dark brown to black spines that turn gray as it matures. It takes 150 years to reach maturity.The older plants produce three-inch (8 cm) funnel-shaped white flowers annually which are open at night and close by the morning and have a purple or pink tint to them. These usually grow during April, May, and June. The organpipe cactus is usually pollinated by bats. The plant also produces fruit about the size of a tennis ball. Beneath the fruit's spiny exterior is red flesh that has been described as tasting better than watermelon.


Some of the information in this description has been found at desert-tropicals.com, llifle.com and cactus-art.biz
| | |
| --- | --- |
| Blooming Season | May to june |
| Common Name | Organ pipe cactus |
| Dormancy | Winter |
| Family | Cactaceae |
| Flower | White/near white |
| Frost Tolerance | -4° C for short periods |
| Growth Rate | Fast |
| Hardiness Zone | 9b - 11 |
| Height | 4-20 ft. |
| Origin | South-western arizona |
| Pot Size | 3.5" |
| Scientific Name | Stenocereus thurberii organ pipe |
| Shape | Large shrubs or treelike cactus |
| Sun Exposure | Full sun |
Customer Reviews
Write a Review
Ask a Question
01/07/2022
BARRY L.

United States
***** pipe
As usual, I love all your plants I've ever brought from you, this one is wonderful, I love it! You definitely have me as a long customer!! Plus, when I first heard of you, I was watching YouTube, and Ana from Cactus caffeine visited you guys and I was hooked!! Thank you for such healthy plants and being a great shop!!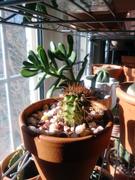 12/28/2021
Mark J.

United States
***** Pipe
I've purchased several plants now from Planet Desert. This one, as with all the others is a beautiful, healthy little plant, received in fine condition. The plants are admittedly small, but that just gives me the pleasure of watching them grow into mature specimens.