Astrophytum capricorne goats horns
(This plant comes in a 3.5" pot. You will receive a very similar plant to the one in the picture. It may or may not be blooming at the time of your purchase. The plant is shipped in its pot to prevent any damage to the roots).
Astrophytum capricorne, also known as the Goat's horns cactus, is native to Mexico.
It has more spines than other Astrophytum species. Solitary globose or columnar cactus.

Flowers: Sweet smelling 7.5 cm wide, yellow with a red center.
Blooming season: Blooms in summer.
Camouflage: The fine spines of this species are an optical artifice supporting the grass-mimicry to the surroundings.
Recommended temperature zone: USDA: 9-10
Frost tolerance: Hardy to 20° F (-6°C)
Minimum avg. temperature: 50°F (10°C)
Sun exposure: Light shade
Origin: Northern Mexico (Coahuila)
Watering needs: Moderate water in summer.
Propagation: Seed
Some of the information in this description has been found at desert-tropicals.com, llifle.com and cactus-art.biz
Customer Reviews
Write a Review
Ask a Question
09/26/2020
Tara W.
United States
Plants arrived in perfect condition
Thank you for the quick shipment and well-packed plants. They arrived in perfect condition!
08/27/2020
ian b.
United States
I love my astrophytum!
I received the cactus is excellent condition and it's already growing.
07/11/2020
Dylan
United States
07/04/2020
Katherine A.
United States
Beautiful, uncommon cactus
I love this little guy! Such a crazy little cactus, he fits perfectly in my collection. Took off one star only because the top of the cactus was not properly protected in shipping and, as a result, the spines at the top of the cactus are loose and may be lost. Otherwise, I love this website and this cactus!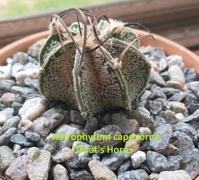 06/02/2020
Ember J.
United States
She's beautiful!
She arrived beautiful! Unfortunately she looked kinda rough when she first came, but after some love she's looking up.