This unique cactus plant comes in a 3.5" pot. You will receive a very similar plant to the one in the picture. It may or may not be blooming at the time of your purchase. The plant is shipped in its pot to prevent any damage to the roots.

This is an extremely popular species and easy to grow. The banded body of this plant is unmistakable, it is an old favorite and very beautiful plant. The colors of the stem are enhanced in full sun and contrast nicely with the pink flowers.

Details:
Origin: Paraguay
Description: Solitary cacti with banded body
Flowers: Pale-pink to purplish-pink, 6-7 cm long.
Cultivation: Very easy to grow, this plant offers no cultivation difficulties.
Watering needs: Moderate in summer, keep dry in winter.
Frost tolerance: Quite frost-resistant if kept dry (-10° C)
Temperature Zone: USDA 8-10
Sun exposure: Full sun to light shade

This is a fun little cactus to start your collections with or add to an already existing plant collection. Enjoy watching this cactus bloom and add it to your indoor garden today! Shop Planet Desert for more cacti and succulents!

Some of the information in this description has been found at desert-tropicals.com, llifle.com and cactus-art.biz
Customer Reviews
Write a Review
Ask a Question
07/16/2020
Kimberly N.
United States
Beautiful and Easy Going
My plants arrived quickly and in amazing packaging. All were potted with a gravel topper, and I was able to open and unwrap each one in my home office with little spillage of gravel or soil. This gorgeous cactus arrived dark colored with a bud ready to bloom. After unpacking, I watered it and put it in the sun and was treated to a gorgeous bloom on the first day! After 7 days, it definitely is greener than before, but has been having shaded and morning sun. I'm going to try some afternoon sun to enhance the darker coloration of the stem. Overall, a very happy plant, and I will order again from Planet Desert!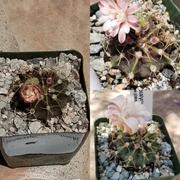 07/15/2020
Nolan B.
United States
cool cactus
Order arrived quickly. Packing was impeccable. Gravel top layer was sufficient to cover surface of larger re-pot. Cactus has two buds preparing to open. Color of cactus is green, but this is likely due to my having it in my office window and it getting less direct sunlight. It seems happy enough in the office window too.
07/03/2020
Dorothy J.
United States
Always the best plants
As always, very good.
06/24/2020
Lara H.
United States
05/06/2020
Jeramy H.
United States
Disappointed at first
It was ok, first I was sent the wrong cacti. Had to contact them, at first I got told, o that the cacti, it's just a different color. Well that fine if the color I ordered was green, but I ordered a purple cacti, so with some persuasion I got them to send me the cacti I ordered. I know my cacti and was definitely sent the wrong one.