Anacampseros telephiastrum variegata
(This plant comes in a 3.5 inch pot. All of our plants are grown under the same conditions, although not all the plants are the same. You will receive a similar plant in size and shape to the ones in the pictures. Our plants are hand-picked and carefully selected to bring you the best quality possible. Please allow us up to 3 business days to process your order. If you wish to receive your order on a specific date, or have special instructions, please add a note at the checkout . The plant is shipped in its pot to prevent any damage to the roots).
Origin and habitat: South Africa Cape Province.
Anacampseros telephiastrum 'Variegata'is a freely branching leaf succulent that forms low clumps or mats up to a height of 15 centimetres. Leaves are green, bright pink and yellow or cream-colored leaves. Flowers are pink and up to 1.4 inches (3.5 cm) in diameter and appear in afternoon in summer. They can be grown compact as rosettes, but with time they start go grow longer and longer and offsetting to create a dense mat or trail over the edge of pots.
Watering: It likes a winter's rest and should be kept in the dry side during the winter months. From early spring onwards the plant will begin to grow, and watering should be increased gradually until late spring when the plant should be in full growth.
Hardiness: Keep dry at 5- 10° C in winter but can tolerate sporadic light frost if kept on the dry side prior to, and during, cold weather. Pots may be placed outdoors during the summer months but must be moved indoors during the winter. USDA zones 9-11
Exposition: The plant tolerates bright situations, if kept too dark they may become overly lush and greener and could be prone to rotting due to over watering. Strong but filtered light encourages flowering but is likely to suffer from sun scorch or stunted growth if over exposed to direct sunlight during the hottest part of the day in summer.


Some of the information in this description has been found at desert-tropicals.com, llifle.com and cactus-art.biz
Customer Reviews
Write a Review
Ask a Question
Great Producy
I am not a gardener, so I decided to try cactus and succulents. The instruction card was invaluable. My plants are not only surviving, but are having new growth! I will certainly be adding to my collection
06/03/2020
Raquel B.

United States
More than impressed
Found you on the Internet and decided to purchase a few succulents and cactus. Was more than impressed they were packaged quite nicely as well as having flowers on a few of them. Funny thing I told my daughter about you guys and she had already ordered some from you previously. I more than suggest this company I find them to be top notch. Five stars all the way.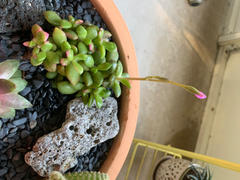 11/06/2019
Laurel L.

United States
Wonderful!
Wonderful! See my review of my Frithia pulchra.