Cyphostemma juttae
(This plant comes in a 3.5 inch pot. All of our plants are grown under the same conditions, although not all the plants are the same. You will receive a similar plant in size and shape to the ones in the pictures. Our plants are hand-picked and carefully selected to bring you the best quality possible. Please allow us up to 3 business days to process your order. If you wish to receive your order on a specific date, or have special instructions, please add a note at the checkout . The plant is shipped in its pot to prevent any damage to the roots).
Cyphostemma juttae

Originally from Namibia, It grows in rocky, arid areas covered by open, semi-tropical, forest exposed to very dry and hot conditions. is a slow-growing succulent ornamental tree with several huge swollen bottle-shaped. Every winter it sheds its leaves completely, leaving only the swollen stem. Flowers borne in early summer are inconspicuous but the grape-like bunches of fruit are red, and later purple and definitely attract attention.
Stem: The thick swollen stem or caudex (which makes this plant a caudiciform) usually grows up to 2 m tall and 1 m thick (occasionally to 4 m in height )
Blooming season: Summer

Cyphostemma juttae is easy to grow, does well in the ground, and makes an impressive specimen, though fairly slow-growing.
Watering: It is droug t tolerant, but it appreciates plentifully of water and some fertilizer during the summer growing season but keep dry in winter in order to prevent rotting. As with all succulents, one must be careful not to over-water. These plants can survive with very little water and too often plants die as a result of too much water.
Exposure: It likes lots of sun throughout the year.
Hardiness: Mature plants are hardy to -3° C (or less), but it is best to avoid freezing temperatures especially if the plants are young. Cyphostemma comes from the hot, dry areas of southern Africa, so it has no problem taking temperatures up to 40° C; however, it may need some afternoon shade in hot climates to avoid leaf burn.


Some of the information in this description has been found at desert-tropicals.com, llifle.com and cactus-art.biz
Customer Reviews
Write a Review
Ask a Question
12/08/2020
David H.

United States
Going dormant
I have great expectations for this little fingerling. Buying while headed into dormant period may not give me much info to review. However, I've got one very old one imported from South Africa that might like some company. Well packed and arrived in good shape.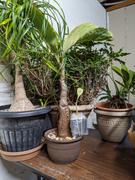 08/29/2020
Leigh W.

United States
Wonderful Plant
I like the fact that my plant came with dirt and a pot and looking healthy. It is all ready sprouting new leaves.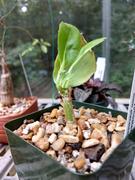 11/15/2019
Mary O.

United States
Great stock and expert packaging
I have ordered several plants from Planet Desert and they have all arrived looking good and are thriving. Terrific packaging and fast shipping! I'm very happy with Planet Desert and recommend them highly.