Adenium socotranum desert rose
(This plant comes in a 3.5" pot. You will receive a very similar plant to the one in the picture. It may or may not be blooming at the time of your purchase. The plant is shipped in its pot to prevent any damage to the roots).
By far one of the most rare and desirable of all succulents it forms in age more of a bush than a small tree (like a dwarf baobab)

Flowers: Pale to bright pink 10-13 cm in diameter. Very rarely seen flowered in collection.

Cultivation: Needs lots of light and fresh air. It will be an indoor bonsai in all but the warmest climates. Keep in a bright location in winter (minimum temperature 10° C). However, in the winter, keeping it cool gives the plant a needed rest. In summer, if possible, move outdoors to a sunny or partly shaded location. Needs little water during winter, especially when kept cool. Increase water during growing and blooming periods. The total watering needed is similar to other succulents, and it will lose leaves if overwatered. Feed monthly during spring and summer with liquid bonsai fertilizer. It has a large caudex with few short thin branches and do not need a heavy pruning after the plant's rest period as requested by other species. Eventually pruning should be kept to a minimum. The sap is poisonous, so clean hands after pruning, and avoid getting sap into open wounds.

Re potting: Root prune and re pot every two years, after the winter rest period, in a mix of 2 parts bonsai soil, 2 parts peat, and one part sand. Can tolerate being pot-bound.
Origin: Endemic from from the isolated island of Socotra in the Indian Ocean south of the Arabian peninsula and east of the Horn of Africa
Some of the information in this description has been found at desert-tropicals.com, llifle.com and cactus-art.biz
Customer Reviews
Write a Review
Ask a Question
07/23/2020
Agnes N.
United States
Adenium socotranum
Another beautiful baby. Thank you
07/23/2020
Patricia R.
United States
Disappointing.
The adenium arrived completely leafless, just a bare stalk. I'm hoping that with care and attention it will eventually leaf out and not die completely, but late summer isn't the right time for it to be dormant. There was a cute little succulent in the same pot, which was a nice plus, but the overall condition of the adenium was poor. I'm rather surprised this was shipped out.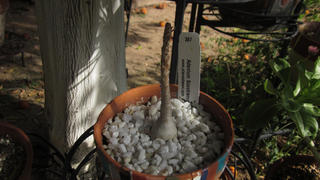 07/05/2020
Andrew T.
United States
06/11/2020
Mary J.
United States
Opinion
The experience was fine, the product was too small, trunk was too soft, and it arrived, badly bruised. I. Was very disappointed.
05/07/2020
Miguel
United States
Great customer service!
When I received this plant it came damaged due to shipping (Not their fault at all). I contacted them and they were very fast and prompt. I received another plant and I love it! The take very good care of their plants! The roots are healthy and even though it's dormant it is very healthy and has a nice caudex. I would recommend if your looking for a cute tree like plant.