Adromischus triflorus 'Calico Hearts'
(This plant comes in a 3.5 inch pot. All of our plants are grown under the same conditions, although not all the plants are the same. You will receive a similar plant in size and shape to the ones in the pictures. Our plants are hand-picked and carefully selected to bring you the best quality possible. Please allow us up to 3 business days to process your order. If you wish to receive your order on a specific date, or have special instructions, please add a note at the checkout . The plant is shipped in its pot to prevent any damage to the roots.)
Adromischus triflorus is an exquisite dwarf perennial succulent plant forming a clusters with decumbent stems to 20 cm long. The shape and size of the leaves of this species are very variable and a number of local forms can be recognized. Often the leaves have reddish speckles that tend to become more intense in bright light; however, sometimes the leaves are devoid of spots. Flowers are greenish on the outside and white or pink inside the petals. Flowering occurs in summer.
Roots: Fibrous.
Stems: Stemlets decumbent or prostrate 8-10(-20) cm long, little branched from the base.
Leaves: Leaves variable, erectly spreading, decussate, oblanceolate, obovate-spatulate, to obtriangular, rarely oblanceolate-rhombic, 30-50(-70) mm long, (10-)15-25 mm wide, longer than broad, cuneate to shortly petiolate, mostly truncate, rarely obtuse, usually convex on both sides, thicker in the lower part, horny margin in upper half, silvery grey, grey-green to greyish brown, glaucous, with tiny waxy dots, often (but not always) with red splotches mostly on the upper leaf.
Inflorescence (thyrse): (18-)25-35 cm tall, with l-3(-5)-flowered cymes, grey-green. Pedicels (l-)2-4(-6) mm long.
Flowers: Buds terete and curved at the apex, spreading. Calyx 1,5-2 mm long, grey-green. Corolla tube cylindrical 8-10 mm, yellowish-green, corolla lobes lanceolate-triangular, 3-5 mm long, white or pink with purple margins, and with club-shaped trichomes mainly towards throat Anthers included. Squamae square to oblong-ovate, 0,9-1,1 x 0,7-0,9 mm, emarginate, broadest at about the middle or below.
Flowering period (in habitat): (November) December, January.
Exposure: It grows best in a partially shaded position. It got sunburned if exposed to midday sun.
Some of the information in this description has been found at desert-tropicals.com, llifle.com and cactus-art.biz
| | |
| --- | --- |
| Blooming Season | Spring and summer |
| Common Name | Calico hearts |
| Dormancy | Summer |
| Family | Crassulaceae |
| Flower | White/near white |
| Frost Tolerance | -6.7° C |
| Growth Rate | Slow growth |
| Hardiness Zone | 9b to 11 |
| Height | Under 6 in |
| Origin | South africa |
| Pot Size | 3.5" |
| Scientific Name | Adromischus maculatus |
| Shape | Vertical Grower / Tall Stem |
| Sun Exposure | Partial to light shade |
Customer Reviews
Write a Review
Ask a Question
02/27/2021
Heatherkrz715 B.
Very healthy, packaged well would buy from...
Very healthy, packaged well would buy from this seller again
08/04/2020
Staci T.

United States
Beautiful Plant
Healthy on arrival. The plant looks as if it hadn't traveled all the way across the Pacific Ocean to Hawaii. I have ordered from other online stores and when the plants arrive they are covered in soil, damaged/missing leaves, or no soil in the pots. My order arrived with very little to almost no soil loss with the top dressing in tact!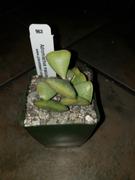 07/23/2020
Mercedes M.

United States
Returning customer
Love all the plants I have purchased from you
07/02/2020
Cynthia S.

United States
Love it
My experience was great. Plant was healthy and beautiful
Love this little cutie!
This was my second time ordering from Planet Desert and I will definitely continue ordering from them. Placed my order and the received my plants within a couple of days & in great condition (just as the description stated). Can't wait to continue looking through their catalog.