Agave victoria reginae variegata '

White Rhino'
(This plant comes in a 3.5-inch pot. All our plants are grown under the same conditions, although not all the plants are the same. You will receive a similar plant in size and shape to the ones in the pictures. Our plants are hand-picked and carefully selected to bring you the best quality possible. Please allow us up to 3 business days to process your order. If you wish to receive your order on a specific date, or have special instructions, please add a note at the checkout. The plant is shipped in its pot to prevent any damage to the roots.)
Agave victoriae-reginae is commonly referred to as the "White Rhino." Expect the winter-dormant plant to grow to a height of 9 inches to 1 foot tall as it matures. This plant's most distinguishing feature is its long green fleshy leaves with light green edges. It has its origin in Agave and belongs to the Agavaceae family.
Growth Rate

The White rhino succulent plant has a fast growth rate.
Flowering
From autumn to spring, the leaf margins of Agave victoria-reginae variegata are smooth and spineless, and when it blooms, it produces stunning cream to off-white flowers.
Watering and Feeding
Water this succulent plant when the top inch of soil is completely dry in the spring. Too much water can cause root rot or make the leaves pale and flop. During the spring & summer, fertilize every two weeks with a standard liquid fertilizer. Feeding should be avoided in fall and winter.
Soil
Agave victoria-reginae grows best in well-drained soil. Use regular succulent or cacti potting soil.
Hardiness

This variety of Agave has a frost tolerance of 0° C (32° F) and belongs to the hardiness zone of 9b to 11b.
Light
White rhino plants grow best in full sun to light shade. A window facing south or southeast is ideal for their growth.
Propagation
Cuttings, leaves, offsets, and seeds can all be used to propagate the Agave victoria-reginae variegata. This succulent does not require repotting on a regular basis.
Some of the information in this description has been found at desert-tropicals.com, llifle.com and cactus-art.biz
| | |
| --- | --- |
| Blooming Season | Autumn to spring |
| Common Name | White rhino' |
| Dormancy | Winter |
| Family | Asparagaceae |
| Flower | Cream / off-white |
| Frost Tolerance | 0 °c |
| Growth Rate | Fast growth |
| Hardiness Zone | 9b to 11b |
| Height | 9" – 1' |
| Origin | Agave |
| Pot Size | 3.5" |
| Scientific Name | Agave victoria reginae variegata |
| Shape | Rounded |
| Sun Exposure | Full sun |
Customer Reviews
Write a Review
Ask a Question
03/18/2022
Bartlett V.

United States
Very Pleased
I'm glad the smaller plants are shipped in their pots. The AGAVE VICTORIA REGINA VARIEGATA arrived in perfect condition and has a tiny surprise bonus "pup" as well! Planet Desert's additional information is very helpful for anyone who loves plants, no matter what level of experience one may have.
09/02/2020
Adrienne B.

United States
Beautiful!!
love the agave. Arrived fast and healthy!
06/16/2020
Laurence F.

United States
False advertisement
I was so excited to open my box. I was really excited to see my "agavae victoria reginae variegata" but dismayed when I saw it. As you can see in the picture attached, it doesn't come closed or similar in size and shape, like what you have in your description. This is what you state "YOU WILL RECEIVE A SIMILAR PLANT IN SIZE AND SHAPE TO THE ONES IN THE PICTURES" but nothing close to it. I'm very disappointed. This is not worth $16.99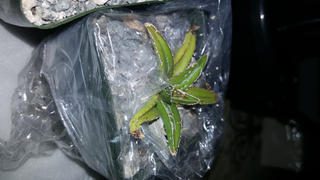 Hi Laurence, I am terribly sorry, you are right, this plant is smaller that it should be, i will be gladd to send you a replacement. whenever this happens, we encourage our customers to contact us directly via email, as we state in our listings, we always stand behind the quality of our products and we always take care of any issues. if we can't find a larger plant, we will offer you a refund. Please let me know if that works for you, you can replay to this message at info@planetdesert.com Thanks Mark
12/23/2019
Dorlane C.

United States
Great condition
The agave is outside and thriving. The quality and condition of the plants you send are excellent.