Agave victoria reginae variegata
(This plant comes in a 3.5 inch pot. All of our plants are grown under the same conditions, although not all the plants are the same. You will receive a similar plant in size and shape to the ones in the pictures. Our plants are hand-picked and carefully selected to bring you the best quality possible. Please allow us up to 3 business days to process your order. If you wish to receive your order on a specific date, or have special instructions, please add a note at the checkout . The plant is shipped in its pot to prevent any damage to the roots).
This is a variegated form from the Agave reginae.
Agave Victoria reginae is a beautiful and slow growing cactus. Its leaf margins are smooth and spineless and when it flowers it produces gorgeous red/purple flowers.

Recommended temperature zone: Sunset: 10-13,15-17,21-30, USDA: 9-12
Minimum avg. temperature: 50°F (10°C)
Heat tolerance: Excellent
Sun exposure: Full sun
Origin: Nuevo Leon, Chihuahua, Mexico (where it is endangered)
Growth habits: Slow growing succulent rosettes to 18" in diameter (45 cm), most populations are solitary, but some offset heavily
Watering needs: Infrequent water
Propagation: Seeds, or offsets if any
Blooming habits: This slow growing agave might take 40 years before blooming, the flower stalk is 10 to 15" with pale green to cream flowers. The plant dies after blooming.
Some of the information in this description has been found at desert-tropicals.com, llifle.com and cactus-art.biz
| | |
| --- | --- |
| Blooming Season | Autumn to spring |
| Common Name | White rhino' |
| Dormancy | Winter |
| Family | Asparagaceae |
| Flower | Cream / off-white |
| Frost Tolerance | 0 °c |
| Growth Rate | Fast growth |
| Hardiness Zone | 9b to 11b |
| Height | 9" – 1' |
| Origin | Agave |
| Pot Size | 3.5" |
| Scientific Name | Agave victoria reginae variegata |
| Shape | Rounded |
| Sun Exposure | Full sun |
Customer Reviews
Write a Review
Ask a Question
09/02/2020
Adrienne B.

United States
Beautiful!!
love the agave. Arrived fast and healthy!
06/16/2020
Laurence F.

United States
False advertisement
I was so excited to open my box. I was really excited to see my "agavae victoria reginae variegata" but dismayed when I saw it. As you can see in the picture attached, it doesn't come closed or similar in size and shape, like what you have in your description. This is what you state "YOU WILL RECEIVE A SIMILAR PLANT IN SIZE AND SHAPE TO THE ONES IN THE PICTURES" but nothing close to it. I'm very disappointed. This is not worth $16.99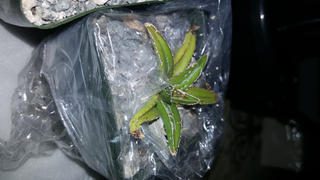 Hi Laurence, I am terribly sorry, you are right, this plant is smaller that it should be, i will be gladd to send you a replacement. whenever this happens, we encourage our customers to contact us directly via email, as we state in our listings, we always stand behind the quality of our products and we always take care of any issues. if we can't find a larger plant, we will offer you a refund. Please let me know if that works for you, you can replay to this message at info@planetdesert.com Thanks Mark
12/23/2019
Dorlane C.

United States
Great condition
The agave is outside and thriving. The quality and condition of the plants you send are excellent.