Aloinopsis rubrolineata
(This plant comes in a 3.5" pot. You will receive a very similar plant to the one in the picture. It may or may not be blooming at the time of your purchase. The plant is shipped in its pot to prevent any damage to the roots).
Description: Aloinopsis rubrolineata is a low multi-branching, mat-forming mesembs, will eventually form large caudex in time.

Flowers: Golden with red midstripe in winter.

Remarks: Aloinopsis rubrolineata has a gorgeous, thick root system and when it is potted up, the plant can be progressively raised over the ground so that some of the roots can be seen and is especially cultivated for their looks. Architecturally it is a real stunner. When the "caudex" shape of the raised roots is adequately in evidence this plant is incomparable. They also tend to grow more "heads" when they are raised.
Some of the information in this description has been found at desert-tropicals.com, llifle.com and cactus-art.biz
Customer Reviews
Write a Review
Ask a Question
08/19/2021
Thomas M.

United States
08/12/2021
sylvia h.

United States
Plant
The plant is alive and well,
06/28/2021
Rudy T.

United States
Aloinopsis plant
Beautiful plant.Great customer service. Will order again.
01/11/2021
Mary J.

United States
Awesome Customer Service
I ordered my first Rubrolineata at the beginning of December and iUSPS took forever to deliver it due to there chaos during the Christmas season. It spent over 3 weeks in transit and it looked like it had been allowed to freeze at one point and by the time it arrived to my house it was in bad shape and didn't live. I emailed Planet Desert and told them what happened. They immediately shipped me another Rubrolineata and it arrived much quicker with the Christmas rush over. It was packaged well and arrived very healthy. I have also ordered 6 other plants and have been very pleased with the quality of the plants and the excellent condition they arrived in. Thank you Planet Desert. I will be ordering from you again : )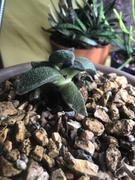 11/16/2020
Terry F.

United States
Aloinopsis rubrolineata
Great packaging! Looking forward to watching this one grow. Beautiful plant.