Anacampseros Telephiastrum Variegata 

Pan American Love Plant
(This plant comes in a 3.5 inch pot. All of our plants are grown under the same conditions, although not all the plants are the same. You will receive a similar plant in size and shape to the ones in the pictures. Our plants are hand-picked and carefully selected to bring you the best quality possible. Please allow us up to 3 business days to process your order. If you wish to receive your order on a specific date, or have special instructions, please add a note at the checkout . The plant is shipped in its pot to prevent any damage to the roots).
Anacampseros telephiastrum variegata is a beautiful & colorful succulent plant. Its common name is "Pan American Love Plant." They grow to a height of 15 cm and belong to the Anacampserotaceae family. Having its origin in South Africa, the Pan American love plant goes dormant in the summer months.
Growth Rate
The growth rate of Anacampseros telephiastrum is slow. 
Flowering
Anacampseros telephiastrum blooms in a lovely pink color and the blooming season is Spring and fall. 
Water and Feeding/Fertilizer
The best method to water this plant is to soak and dry. During its growing period, fertilization helps the succulent plant to grow healthier.
Soil
Anacampseros telephiastrum grows well in well-draining soil with some organic mix.
Hardiness
Pan American belongs to the hardiness zone of 10a to 11b and frost tolerance is 30° F (-1.1° C)
​Light
These plants need full sun to partial shade. Full sunlight helps the plants grow better.
Propagation
This variety of succulents can be propagated by stem cuttings or seeds.  As it is a slow-growing plant, it may take longer to grow from seeds.  
The Pan American Love plant is a perfect indoor plant. It makes your interior look more attractive. It will surely lighten up your home and garden.
Some of the information in this description has been found at desert-tropicals.com, llifle.com and cactus-art.biz
| | |
| --- | --- |
| Blooming Season | Spring and fall |
| Common Name | Pan american love plant |
| Dormancy | Summer |
| Family | Anacampserotaceae |
| Flower | Pink |
| Frost Tolerance | 30° f (-1.1° c) |
| Growth Rate | Slow growth |
| Hardiness Zone | 10a to 11b |
| Height | 15 cm |
| Origin | South africa |
| Pot Size | 3.5" |
| Scientific Name | Anacampseros telephiastrum variegata |
| Shape | Rosette |
| Sun Exposure | Full sun to partial shade |
Customer Reviews
Write a Review
Ask a Question
06/07/2021
arlington g.

United States
Bonus
Broke in half during unpacking so I got two for the price of one. Quite attractive.
04/23/2021
Carol W.

United States
Great Producy
I am not a gardener, so I decided to try cactus and succulents. The instruction card was invaluable. My plants are not only surviving, but are having new growth! I will certainly be adding to my collection
06/03/2020
Raquel B.

United States
More than impressed
Found you on the Internet and decided to purchase a few succulents and cactus. Was more than impressed they were packaged quite nicely as well as having flowers on a few of them. Funny thing I told my daughter about you guys and she had already ordered some from you previously. I more than suggest this company I find them to be top notch. Five stars all the way.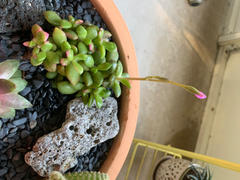 This review has no content.
This review has no content.