Boophone haemanthoides
(This plant comes in a 3.5 inch pot. All of our plants are grown under the same conditions, although not all the plants are the same. You will receive a similar plant in size and shape to the ones in the pictures. Our plants are hand-picked and carefully selected to bring you the best quality possible. Please allow us up to 3 business days to process your order. If you wish to receive your order on a specific date, or have special instructions, please add a note at the checkout . The plant is shipped in its pot to prevent any damage to the roots).
(Pictures 3 and 4 are mature plants for reference only)

Boophone haemanthoides

Boophone haemanthoides is a striking plant for a large pot, and also makes a handsome feature planted in bold groups in rock garden pockets. It is important to note that the bulbs are highly sensitive to excess moisture during the winter growing period and require a completely dry summer period when they are dormant. The plants require high light intensity to grow well, preferring full sun for as much of the day as possible. A pot at least 400 mm deep is needed for a mature bulb. When displayed as a pot subject, it performs well when placed on a sunny patio. Grow the bulbs in a sandy, well-drained soil mixture. When planting B. haemanthoides bulbs, make sure that at least two thirds of the bulb is above ground level. Water the plant well once in late autumn, and wait for the leaves to appear. Thereafter, provide a good soaking once per month. As soon as the leaves start to turn yellow in late spring, withhold watering and keep the bulbs as dry as possible in summer.
In cultivation, flowering can be very erratic, and the main display feature of these plants lies in their ornamental leaf fans. Individual flowers are short-lived, lasting only a few days, and the flower head lasts no more than 7 days.

Some of the information in this description has been found at desert-tropicals.com, llifle.com and cactus-art.biz
| | |
| --- | --- |
| Blooming Season | Late summer/early fall |
| Common Name | Cape century plant |
| Dormancy | Summer |
| Family | Amaryllidaceae |
| Flower | Pink |
| Frost Tolerance | - |
| Growth Rate | Slow growth |
| Hardiness Zone | 10b to 11 |
| Height | 12-18 in. (30-45 Cm) |
| Origin | South africa |
| Pot Size | 3.5" |
| Scientific Name | Boophone haemanthoides |
| Shape | Fan-like shape |
| Sun Exposure | Full sun to partial shade |
Customer Reviews
Write a Review
Ask a Question
05/12/2021
Paula B.

United States
Boophone haemanthoides
So glad that you asked. I am having problems. I put them in the sun. but didn't water them. The smaller one lost most of the green color in its leaves. The other appears to be OK. Then I watered them a bit. (1/4 cup each). After a couple of days I moved them into a less sunny area. (A.M. sun only). From what I've read they will soon lose their leaves for this season And be dormant. How often should I be watering them now. I need some guidance. I live in Zone 14. Thanks, Paula Jaffe From: Planet Desert [mailto:reviews@stamped.io
05/01/2021
Aaron

United States
Leah seems like a ****
Man, I feel sorry for Leah. Anybody who spends their days being that vindictive over a plant obviously has some anger issues. She's like, " What?! My exotic, super finicky plant arrived on life support after being tossed around in a box for a week?!?"
03/19/2021
Leah P.

United States
Packaged poorly
Great care was put into making sure soil didn't escape during transit via plastic wrap and rubber bands. No care whatsoever was put into making sure the plant would arrive undamaged. The delicate, rare plant was wrapped in a piece of paper that was taped to the pot and set in a box. I laughed in disbelief when I cut the paper and it flopped out completely creased and wrecked. They blocked me for posting that they are a "big *a-word* no" on my Instagram story, then hilarious customer service said since I got too aggressive on social media they will only refund the plant if I return it. I don't want it to die so I'm not doing that, and hope it'll pull through. I'm satisfied having taken at least six of your customers with me.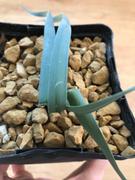 Hi Leah, I am sorry you have that impression on our company, we take great pride in our customer service. As we state in our listing, we always stand behind the quality of our products, as well as we always maintain good communication with our customers. We always try to solve any issues we can. We ship thousands of plants every day, it is normal that once and awhile plants can get damaged and is why we honor our customer satisfaction guarantee. The reason we blocked you on social media was not due to your review, as you can see our reviews are real and they are here for all to see. We blocked you because of your repeated usage of the F word, that is something we can not tolerate. We still stand on our promise to give all our customers 100% satisfaction. That is why we are offering you a full refund, but you denied it. I am sorry you find so much satisfaction in what you mentioned of taking our customers.
Plant arrived quickly and in good shape. I...
Plant arrived quickly and in good shape. It was very well packaged.
Came in excellent condition, would order f...
Came in excellent condition, would order from this shop again! Also came in three days!! Love my wishlist plant!