Echinopsis Sierra Grandensis
(This plant comes in a 3.5 inch pot. All of our plants are grown under the same conditions, although not all the plants are the same. You will receive a similar plant in size and shape to the ones in the pictures. Our plants are hand-picked and carefully selected to bring you the best quality possible. Please allow us up to 3 business days to process your order. If you wish to receive your order on a specific date, or have special instructions, please add a note at the checkout . The plant is shipped in its pot to prevent any damage to the roots).

Echinopsis Sierra Grandensis
Origin: Northern Argentina
Description: Also known for the name "Golden Easter Lily Cactus", this plant can reach up to 15cm tall and a diameter of 4-10 cm or more.
Sun Exposure: Does well in filtered sunlight or afternoon shade. Bright light encourages bloom but can be prone to sunburn is exposed to too much light on hottest days of summer.
Waterings: Regular watering needs, needs a little more in summer time and a little less in winter.
Blooming habits: Blooms beautiful yellow flowers in flushes in late spring and sometimes in summer time.
Hardiness: Quite frost resistant if kept dry. Hardy from 1°F to 23° F or less for short periods .
Best if kept above 40°F the rest of the year.
Some of the information in this description has been found at desert-tropicals.com, llifle.com and cactus-art.biz
| | |
| --- | --- |
| Blooming Season | Summer |
| Common Name | Golden easter lily cactus |
| Dormancy | Winter |
| Family | Euphorbiaceae |
| Flower | Yellow |
| Frost Tolerance | 11 c |
| Growth Rate | Fast growth |
| Hardiness Zone | 9 |
| Height | 15cm |
| Origin | South africa |
| Pot Size | 3.5" |
| Scientific Name | Echinopsis Sierra Grandensis |
| Shape | Enlogated |
| Sun Exposure | Full sun |
Customer Reviews
Write a Review
Ask a Question
Thank you for always being one of the best...
Thank you for always being one of the best shops on etsy to work with. Incredible packing, fast shipping, great communication and quality is always the best with product. Look forward to many future purchases. ++++++++
07/14/2021
Leigh A.

United States
Beautiful, healthy, quality cactus!
I don't know where to begin! This is AMAZING! I will start by saying I collect cactus. Out of many online experiences that went incredibly bad I had lost all hope to finding a good online shop. NOT ANYMORE PLANET DESERT TO THE RESCUE! it quickly arrived. they wrapped so well not even a pebble rock was out of place! These cactus were stunningly beautiful!!! My photos won't do them justice! Some had beautiful flower stems just ready to open! Amazed! I'd give a million stars if I could! ❤️ The newest, forever Planet Desert top fan!!!! Happy growing! ❤️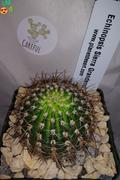 07/14/2021
Leigh A.

United States
Beautiful, healthy, quality cactus!
I don't know where to begin! This is AMAZING! I will start by saying I collect cactus. Out of many online experiences that went incredibly bad I had lost all hope to finding a good online shop. NOT ANYMORE PLANET DESERT TO THE RESCUE! I'm going to rave about Planet Desert, then share some what I been through and why this is soooo fantastic to me. I opened 2 out of 11 cactus I ordered and I was in tears!! Literal tears, of joy and relief! A friend pushed me to order as a gift for myself and my upcoming 37th bday. I'm so glad I did! The he shipping was wonderful!! Once it shipped it quickly arrived. My box was beat up some by the postal service so was a bit worried. Nope no need to worry with PD, they wrapped so well not even a pebble rock was out of place! Included was detailed with photos and full sheet instructions invoice, which never had from other shops. Each plant was wrapped individually with so much care, and THEY HAD ID TAGS!!! I didn't have to try figure out what was what or if it was even all there nor hunt through nonsense to find something missing. Nope, was all clearly there from moment I opened the box. Serious not a pebble out of place. Now then let me tell you what really topped it, the quality!!! These cactus were stunningly beautiful! They look better than ones I've grown from seed myself. They weren't all beat up scared, scabbed or rotting away, nor covered in who knows what. No worry of the health at all!!! Beautiful!!! My photos won't do them justice, their website Photos, great but also don't even do them justice!! Some had beautiful flower stems just ready to open! Amazed! I have had orders before from other "succs" shops/depot's that were absolutely TERRIBLE! Had me stressed and crying for wrong reasons. Shops that didn't know difference in plants even. Shops I had to teach about specific cactus pest...and they were large online suppliers at that. Nothing to teach planet desert here... NOTHING! They got it perfect!! Having maybe one out of every 10 in good condition on other shipments to now with PD having entire shipments be this great. I've had packages come in so terrible it wasn't worth the fight and to trash they went. Not from PD!!! No wet soggy roots wrapped with toilet paper, to paper towels, plastic, restaurant napkins, paper all in one box I've had it from some succs places, but not with planet desert!!! I literally 3 days later am STILL beyond excited. I can't believe I hadn't discovered them sooner!!!! I will not order from other online cactus suppliers again. NOPE! Even if planet desert is out stock, I'll simply sit back and wait knowing I'll get a quality cactus in the end. This review almost seems like it's sponsored or something but let me tell you it's not. I'm a simple Texas woman of 37 years collecting cactus since age 6, disabled and don't have a lot to spend so when I spend it, it's ALOT to me to get something I will fully enjoy in return. My expectations have been exceeded by far. I'm forever a fan of planet desert. All shops will have small issues here and there, nothing is perfect, but this is the only shipment I've ever had that was so wonderful. Nothing, even if in future if were to have a small hiccup, it won't stop me from loving this shop knowing the care passion and obvious love they put into not only the plants, but all around, the shipping potting presentation and customer care! I'll literally never mess with those other "succs" sucky shops again! Never! Replacement has been found! Thank you so much Planet Desert staff!!! Keep doing what y'all are doing!!! Nothing ive had in the plant world and 30 years of cactus loving, has been this great when comes to all around products and care! You all, guys and gals, Planet Desert, are number 1 in my book!!!!! I'd give a million stars if I could! ❤️ The newest, forever Planet Desert top fan!!!! Happy growing! ❤️