This plant is shipped Bare root. Our specimen category are plants that are grown in different ways, some of them are grown in pots, some are grown in trays and other are grown directly in our fields, that is why we will ship them bare root.All of our plants are grown under the same conditions, although not all the plants are the same. You will receive a similar plant in size and shape to the ones in the pictures. Our plants are hand-picked and carefully selected to bring you the best quality possible. Please allow us up to 3 business days to process your order. If you wish to receive your order on a specific date, or have special instructions, please add a note at the checkout .
Euphorbia bupleurifolia a gorgeous plant that is found in large areas such as South Africa, Cape Province, all the way to Transkei and Natal. It is a plant that reaches up to about 12 to 16" in height, either solitary or branches from the base of the plant. These plants are dioecious meaning that they are male or female flowers, although this one has been reported to able to actually change sexes. It is a unique and beautiful plant for any purpose.
This is a small, slow-growing choice Euphorbia, and although not one of the easiest to grow, it should not be too difficult for the careful collector. It is suitable as a container plant (but it can grow in the ground in areas with a mild climate).

Moisture: It does not like its compost drying out for very long periods when the weather is hot. It needs constant moisture during the Summer, but it doesn't like winter water, as it rots easily.
Hardiness: It needs to be kept warm, not less than 10 C in the winter (but when dormant and dry they are relatively cold tolerant).
Sun Exposure: Light shade.
| | |
| --- | --- |
| Blooming Season | Spring |
| Common Name | Cone-shaped spurge |
| Dormancy | Winter |
| Family | Euphorbiaceae |
| Flower | Yellowish-green |
| Frost Tolerance | 10°c |
| Growth Rate | Slow growth |
| Hardiness Zone | 9b to 11b |
| Height | 20 cm (8″) |
| Origin | South africa |
| Scientific Name | Euphorbia bupleurifolia large Specimen |
| Shape | columnar |
| Sun Exposure | Light shade |
Customer Reviews
Write a Review
Ask a Question
05/06/2020
Michael R.

United States
Amazing plant!
He is so beautiful! He even arrived in bloom and ready for cross pollination! He lost a few leaves and all blooms shortly after arrival, but his remaining leaves are still nice and stiff and he seems to be adjusting to the new environment just fine. Here's hoping I can keep this gorgeous guy happy!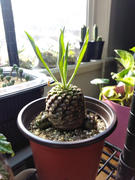 04/05/2020
Ronaldo M.

United States
Amazing quality!
I was afraid how this was going to ship w/o a pot, but the quality was amazing! Everything was intact and healthy! I potted it and can't wait it to bloom.