Euphorbia esculenta inhermis
(This plant comes in a 3.5-inch pot. All our plants are grown under the same conditions, although not all the plants are the same. You will receive a similar plant in size and shape to the ones in the pictures. Our plants are hand-picked and carefully selected to bring you the best quality possible. Please allow us up to 3 business days to process your order. If you wish to receive your order on a specific date, or have special instructions, please add a note at the checkout. The plant is shipped in its pot to prevent any damage to the roots.)

Cultivation and propagation: Euphorbia esculenta is an easy species to grow that is suited for any well drained soil in full sun. It is cultivated as an ornamental, and is a particular favorite of succulent plant enthusiasts.

Growing rate: It is a relatively slow growing and long lived plant and once established, it will be content in its position and with its soil for years.

Soil and pots: It likes deep pot with generous drain holes to accommodate its tap root, needs a very airy potting medium very permeable to water which mainly consists of nonorganic material such us clay, pumice, lava grit, expanded slate and only a little peat or leaf-mold. Re-pot every two years.

Exposure: It can tolerate moderate shade, and a plant that has been growing in shade should be slowly hardened off before placing it in full sun as the plant will be severely scorched if moved too suddenly from shade into sun.

Watering: Water regularly during the active growing season. No water should ever be allowed to stand around the roots. Keep almost completely dry in winter. However this spurge will tolerate dryness and can even thrives in poor, dry soils, but do better when grown in nutrient-rich soils with regular watering.

Hardiness: Some cold tolerance. This spurge has tolerated temperatures down to -6º C and even a little snow. However, it can be difficult to get it to look its best without a good amount of heat and sun (USDA Zones 8-11)

Known hazards: As with all other Euphorbias when a plant get damaged it exudes a thick white milky sap known as latex. This latex is poisonous, and may irritate skin. Pay extreme attention not to get any in your eyes or mouth. Cultivated plants must be handled carefully.
Some of the information in this description has been found at desert-tropicals.com, llifle.com and cactus-art.biz
Customer Reviews
Write a Review
Ask a Question
This review has no content.
This review has no content.
04/28/2021
Linda P.

United States
Gorgeous cactus
I wasn't sure about this cactus so I used their ask a question button on the listing. They respond to questions usually in 1 business day and are quick which gave it a personal touch. The delivery was about a week and would order again to support a small business. So glad they had this excellent cactus that I looking for!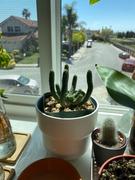 03/19/2021
Katherine A.

United States
So BEAUTIFUL!
I received a fairly large specimen in perfect condition. I'm in love!
This seller ticks EVERY box with PERFECTIO...
This seller ticks EVERY box with PERFECTION!!!!! Packed well and pots included ***** 5 STARS***** Quality of plants - OUTSTANDING ***** 5 STARS***** Plant labels included - FANTASTIC ***** 5 STARS***** Shipping - VERY FAST ***** 5 STARS***** Communication - Very Helpful to combine 2 orders and refund second shipping charge ***** 5 STARS***** Seller needs to hold classes and teach EVERY OTHER SELLER how it's done!!! I AM A VERY HAPPY CAMPER!!!!!
08/29/2020
Jeb P.

United States
Super Duper
such a beautiful healthy specimen. Perfectly packaged and safely arrived. I've come to expect such excellent plant selections and service from this company after continued patronage. They do not disappoint in any respects. I will certainly continue doing business with them.