Euphorbia viguieri ankarafantsiensis
(This plant comes in a 3.5" pot. You will receive a very similar plant to the one in the picture. It may or may not be blooming at the time of your purchase. The plant is shipped in its pot to prevent any damage to the roots).
Origin: Madagascar.

Description: Euphorbia viguieri is a very plant with an angular, bright green stem with vertical, spiralling whitish thorns and vibrant red top-knots of floral parts. It is not a cactus, although it looks like one.

Cultivation and propagation: Euphorbia viguieri is a very ornamental species, easy to grow and suited for any well drained soil on bright light. It can be cultivated in open air in tropical or subtropical climate zones, in full sun, or (preferably) in light shade, on perfectly draining calcareous soils. But young plant are happy growing indoors too.

Growing rate: It is a slow grower.

Exposure: bright light to full sun.

Hardiness: protect from frost.
Some of the information in this description has been found at desert-tropicals.com, llifle.com and cactus-art.biz
| | |
| --- | --- |
| Blooming Season | summer |
| Common Name | Viguier's spurge |
| Dormancy | Winter |
| Family | Euphorbiaceae |
| Flower | Red-orange |
| Frost Tolerance | -1° To +4.5°c |
| Growth Rate | Fast growth |
| Hardiness Zone | 10b-11 |
| Height | 12-48 in |
| Origin | Madagascar |
| Pot Size | 3.5" |
| Scientific Name | Euphorbia viguieri ankarafantsiensis |
| Shape | - |
| Sun Exposure | Partial shade |
Customer Reviews
Write a Review
Ask a Question
03/13/2022
Jeremy S.

United States
I am about to place another order since the first order was so awesome
This plant is growing surprisingly fast. Already has a bunch more big healthy leaves. I was surprised that it arrived in such good condition having to ship it in a box with the big leaves it has. But it was protected very well. You can't even tell now that it was shipped wrapped up in a box. I really like the pink color it has in it as well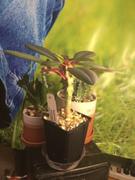 01/05/2022
Jeremy S.

United States
Large leaves didn't get damaged during shipping
Arrived safely and without damage even with the big leaves on it. They somehow found a way to get it to fit and ship still in the nursery pot safely wrapped, but with the leaves still protected enough as well. I have seen pics of this one when it gets older and I can't wait. It's an amazing looking plant with the unreal looking neon pink colors mixed in with it. I've noticed it's growing quickly. The soil is getting dry quicker and more leaves keep coming out already. Cant wait until it gets big. I'm going to have to place another order since I'm very happy with this one, and they have so many others I can't find locally like this plant.
12/14/2021
Richard R.

United States
Halthy but expensive!
I am growing succulents to replace the plants lost due to a hard freeze! Wit the postage the small plants are expensive!
10/23/2021
Peter T.

United States
Vivid Pink Thing
Another new specimen for me to grow... I don't know exactly how it will develop, but the plant sent was already vivid pink-ribbed and I eagerly await to see the growth pattern. Euphorbias are always a favorite and never fail to intrigue! This plants looks kind of like a desert rose with its foliage, only showier!
10/13/2021
Jamie C.

United States
Wonderful plant
Exactly as advertised. In fact larger than expected.