This cactus is a mounding cactus. It has whitish short spines; they curve backwards towards the dark green body. It blooms flowers that go from pink to white.

Recommended temperature zone: USDA: 8-11
Frost tolerance: Hardy to 10° F (-12°C) or less
Minimum avg. temperature: 50°F (10°C)
Sun exposure: Full sun to light shade
Origin: Argentina (Córdoba)
Watering needs: Summer grower, water regularly in summer, keep rather dry in winter
Propagation: Seeds, offsets
Some of the information in this description has been found at desert-tropicals.com, llifle.com and cactus-art.biz
| | |
| --- | --- |
| Blooming Season | Summer |
| Common Name | Hens and chicks |
| Dormancy | Winter |
| Family | Cactaceae |
| Flower | Pink |
| Frost Tolerance | -15° C |
| Growth Rate | Fast |
| Hardiness Zone | 3 to 8 |
| Height | 1.5 inches |
| Origin | Argentina |
| Pot Size | 3.5" |
| Scientific Name | Gymnocalycium bruchii |
| Shape | Flattened |
| Sun Exposure | Full sun |
Customer Reviews
Write a Review
Ask a Question
03/10/2023
David R.

United States
Fantastic buying experience
Really wonderful plant, small but healthy (this variety runs small). I also like the soil it is planted in. A very professional nursery, and one to cherish!!
02/10/2023
steve k.

United States
Gymnocalycium bruchii
Extremely pleased with purchase.
01/30/2023
Judy S.

United States
Gymnocalcium bruchii
The plants arrived in good time. Thanks for alerting me. The residents are no longer notified that a package has arrived, so it could sit down in the (mail) room until you go pick it up. A couple of days after receiving the plant, I noticed something coming up in the middle of the plant. It has one bud getting larger every day. Can't wait to see the flower. I now have a large cactus collection and, as the old plants die off, I try to replace them with the same plant.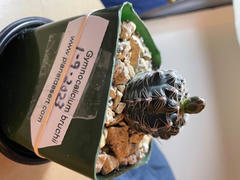 09/11/2022
Peiti W.

United States
Love my cutie!
I was surprised when I opened the package. Planet Desert has done a great excellent job on packaging. All plants arrived safely and in healthy condition. I decently will buy again!
08/29/2022
Fusun A.

United States
Clumping gymno
I got a well cared for plant as usual. This is the only clumping gymno that I know and I can't wait until it blooms its head off like all the others in my bright bathroom.