Haworthia Truncata
(This plant comes in a 3.5 inch pot. All of our plants are grown under the same conditions, although not all the plants are the same. You will receive a similar plant in size and shape to the ones in the pictures. Our plants are hand-picked and carefully selected to bring you the best quality possible. Please allow us up to 3 business days to process your order. If you wish to receive your order on a specific date, or have special instructions, please add a note at the checkout . The plant is shipped in its pot to prevent any damage to the roots).
This desirable species, despite the fact that actually is common in cultivation, still inspires trepidation and admiration by way of its unusual truncate leaf tips. It is a superb plant, unique, distinctive and very different for any collection.

Origin and Habitat: South Africa (Western Cape: Little Karoo) in Oudtshoorn area
Leaves: The leaves look as if they have been roughly cut off at the tops and they are arranged like a fan, not a rosette. As the plant grows take on an almost crested appearance. The leaf size and thickness, of the end-areas will vary greatly from clone to clone. The surface is warty and the blunt end is transparent whit some interesting leaf markings, others are rather plain, this "lightning flash" patterns in the leaves do not come out until the plant reaches maturity.
Fenestrate leaves: This plant is a choice example of the window-leaf ( fenestrate leaf) adaptation found in many Haworthias, Mesembreanthemums and Peperomias, the translucent 'glassy' windowed apices allow light into the internal plant body rich in chlorophyll-bearing layers of cells, thereby providing a much larger assimilation area. The windows greatly increase the photosynthesizing area by allowing light into the centres of leaves and at the same time avoiding water loss.
Remarks: This species has been the subject of passionate work of breeding and selection by the Japanese, and a number of wonderful cultivars with white lacy patterns on green-grey windowed tips have been developed and propagated, and some specimens have a very unique leaf shape.
Watering Needs: Water regularly in the growing season, but avoid water-logging and let dry between watering, they should never dry out completely during the rest period. If grown in a container, bottom watering by immersing the container is recommended. It must have very dry atmosphere.
Sun Exposure: Keep cool and shaded in summer, and provide locations with diffuse sunlight or light shade, it can tolerate shade, shelter from direct sun during the hottest hours. In shade the body color will remain more green, while full sun will darken a lot. It can be sunburned if moved from shade/greenhouse into full sun too quickly. The amount of sunlight it can withstand without scorching depends upon the how hot it becomes in the summer in the locale in which it is planted. During the spring it may be able to take full sun until the heat arrives at the end of spring. In an area that has hot afternoon sun, it may be able to take full morning sun, but requires afternoon shade or afternoon light shade.
Frost Tolerance: Light frost protection required. It requires a minimum temperature of about 5°C (But will take a light frost and is hardy down to -5(-7)° C for short periods if it is in dry soil). USDA zones 9A - 11. In areas prone to frost, grow in an intermediate greenhouse or conservatory, in pots.



Some of the information in this description has been found at desert-tropicals.com, llifle.com and cactus-art.biz
| | |
| --- | --- |
| Blooming Season | Summer |
| Common Name | Horse's teeth |
| Dormancy | - |
| Family | Asphodelaceae |
| Flower | White |
| Frost Tolerance | -5(-7)° C |
| Growth Rate | Slow |
| Hardiness Zone | 10a to 11b |
| Height | (2 Cm) |
| Origin | South africa |
| Pot Size | 3.5" |
| Scientific Name | Haworthia Truncata |
| Shape | fleshy leaves in grey-green |
| Sun Exposure | Dappled shade |
Customer Reviews
Write a Review
Ask a Question
Nice plant
Nice little plant, arrived in great shape
01/05/2022
Jeremy S.

United States
I love my Sushi plant.
I've wanted one of these since I first saw one in a video taken in Japan. I haven't seen it for sale anywhere else, especially locally it's nowhere to be found. It's such a cool looking plant. Kinda reminds me of sushi for some reason. Almost like it's wrapped in seaweed or something. It arrived safely with minimal damage from the top layer of rocks rubbing the sides slightly at the bottom. Nothing to be concerned with and to be expected shipping half way across the country. I am now trying to decide which one to order next. I may get another one of these as well. Cannot wait to see how this one grows over time.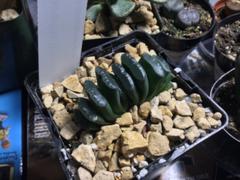 We are glad to hear that you liked your plant and thank you so much for taking the time to give us your feedback. If you have any questions or concerns, please contact us anytime.