Haworthia Truncata has a common name 'Horse's Teeth'. With its origin in South Africa, this plant is a beautiful succulent species in the Haworthia genus and belongs to the Asphodelaceae family. Horse's Teeth grow up to 2 cm in height.
Growth Rate

Haworthia truncata is a slow-growing houseplant with a warty surface.
Flowering
This attractive plant blooms in white shade throughout the summer season. The flowers are noted for being fragrance-free.
Water and Feeding/Fertilizer
The succulent needs regular watering every season. However, less water is required during the winter season. So, overwatering should be avoided. Use nitrogen-based fertilizer once or twice during the growing season.
Soil
Horse's Teeth plants are prone to root rot. So, they prefer gritty soil. The soil may contain crushed stones or coarse sand.
Hardiness
Haworthia truncata belongs to the hardiness zone of 10a to 11b and has a frost tolerance of -5° C (23° F).
​Light
These plants need full sunlight to light shade.
Propagation
This variety of Haworthia is not difficult to propagate. Propagation is done through seeds or leaf cuttings.
Some of the information in this description has been found at desert-tropicals.com, llifle.com and cactus-art.biz
| | |
| --- | --- |
| Blooming Season | Summer |
| Common Name | Horse's teeth |
| Dormancy | - |
| Family | Asphodelaceae |
| Flower | White |
| Frost Tolerance | -5(-7)° C |
| Growth Rate | Slow |
| Hardiness Zone | 10a to 11b |
| Height | (2 Cm) |
| Origin | South africa |
| Pot Size | 3.5" |
| Scientific Name | Haworthia Truncata |
| Shape | fleshy leaves in grey-green |
| Sun Exposure | Dappled shade |
Customer Reviews
Write a Review
Ask a Question
01/05/2022
Jeremy S.

United States
I love my Sushi plant.
I've wanted one of these since I first saw one in a video taken in Japan. I haven't seen it for sale anywhere else, especially locally it's nowhere to be found. It's such a cool looking plant. Kinda reminds me of sushi for some reason. Almost like it's wrapped in seaweed or something. It arrived safely with minimal damage from the top layer of rocks rubbing the sides slightly at the bottom. Nothing to be concerned with and to be expected shipping half way across the country. I am now trying to decide which one to order next. I may get another one of these as well. Cannot wait to see how this one grows over time.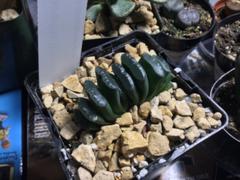 We are glad to hear that you liked your plant and thank you so much for taking the time to give us your feedback. If you have any questions or concerns, please contact us anytime.