Hildewintera Colademononis 

Monkey Tail
(This plant comes in a 3.5 inch pot. All of our plants are grown under the same conditions, although not all the plants are the same. You will receive a similar plant in size and shape to the ones in the pictures. Our plants are hand-picked and carefully selected to bring you the best quality possible. Please allow us up to 3 business days to process your order. If you wish to receive your order on a specific date, or have special instructions, please add a note at the checkout . The plant is shipped in its pot to prevent any damage to the roots).
Hildewintera colademononis is a cactus plant with long, cascading spines and white, hair-like spines. It is commonly known as 'Monkey tail' due to its hairy appearance that resembles a monkey's tail and grows up to the height of 12-18 inches (30-45 cm). This winter-dormant plant has its origin in Bolivia and belongs to the Cactaceae family.
Growth Rate
Hildewintera colademononis plant has a slow growth rate.
Flowering

This cactus blooms in late spring to early fall with bright Rose/mauve flowers.
Watering and Feeding

During the spring and summer growing seasons, water these cacti once a week. When your Monkey tail cactus enters dormancy in the fall and winter, it will store water in its stems. To encourage growth, apply a low-nitrogen, high-potassium fertilizer monthly during the growing season.
Soil

Hildewintera colademononis plant prefers a well-draining organic soil mix or a specially formulated cactus soil mix.
Hardiness

This variety of Hildewintera has a frost tolerance of -2° C (28.4° F) for short periods and belongs to the hardiness zone of 9a to 11b.
Light

Monkey tail cacti thrive in areas with abundant bright, indirect sunlight. While indirect light is preferable, it can withstand full sun to partial shade sun exposure.
Propagation

The desert-native cactus can be propagated from cactus seeds or stem cuttings and grown as indoor plants. Plant it in rich, organic cactus soil once the end has formed a callus. Place the plant in a humid environment with a mix of full sun and partial shade. Within a few weeks, your plant should begin to root.
Hildewintera colademononis or Monkey's tail cactus is a good choice for beginning gardeners because it is simple to grow. It requires less care and attention.

Some of the information in this description has been found at desert-tropicals.com, llifle.com and cactus-art.biz
| | |
| --- | --- |
| Blooming Season | Late spring-early fall |
| Common Name | Monkey's tail |
| Dormancy | Winter |
| Family | Cactaceae |
| Flower | Rose/mauve |
| Frost Tolerance | -2°c For short periods |
| Growth Rate | Fast growth |
| Hardiness Zone | 9a to 11b |
| Height | 12-18 in. (30-45 Cm) |
| Origin | Bolivia |
| Pot Size | 3.5" |
| Scientific Name | Hildewintera colademononis |
| Shape | - |
| Sun Exposure | Full sun to partial shade |
Customer Reviews
Write a Review
Ask a Question
08/22/2022
Tim R.

United States
Nice plant
My monkey tail cactus arrived in good condition and ready to grow. Can't wait until it blooms!
04/15/2022
Old G.

United States
Double good
Very unique (and delicate) hanging cactus. Unfortunately one of the stems broke during transport, but will leave for hopeful propagation. Planet Desert was the only place I've ever purchased a plant online but it was a great experience.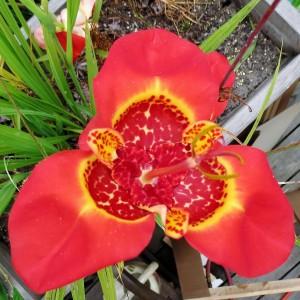 DS
03/01/2022
Donna S.

United States
Very Pleased
The growth tip of the cutting seems to be damaged, but it is growing anyway and I'm pretty happy with it.
01/12/2022
Beverly S.

United States
This review has no content.
This review has no content.