Lapidaria margarethae 

Beestebul
(This plant comes in a 3.5-inch pot. All our plants are grown under the same conditions, although not all the plants are the same. You will receive a similar plant in size and shape to the ones in the pictures. Our plants are hand-picked and carefully selected to bring you the best quality possible. Please allow us up to 3 business days to process your order. If you wish to receive your order on a specific date, or have special instructions, please add a note at the checkout. The plant is shipped in its pot to prevent any damage to the roots.)
Lapidaria margarethae is a winter-dormant plant with its origin in South Africa. The interesting succulent from the Aizoaceae family is known by its common name "Beestebul". Growing up to 2-3 inches in height, these plants form rosettes of fleshy leaves. Lapidaria margarethae grows beautifully when given proper care.
Growth Rate

Beestebul plant is fast-growing. They are perfect for adding an ornamental look.
Flowering

This succulent plant blooms in lovely pink or white color from late autumn to early winter.
Watering

These plants must be watered every few days during their growing season. Make sure to not let the water sit in the soil for too long. The need for watering is dependent on humidity levels.
Soil

Lapidaria margarethae succulent does better in a well-drained soil mix.
Hardiness

This plant is hardy in zones 9 to 12. It has no frost tolerance. So, it is better to plant this variety indoors if you live in areas with temperatures −4° C or 39.2° F.
Light

Beestebul houseplants grow well in full sun. They like bright sunlight and perform better when given the right conditions to thrive. 
Propagation

The best way to propagate Lapidaria is from seeds or cuttings.
Lapidaria margarethae "Beestebul" is an attractive plant for home décor. Give this succulent a try!

Some of the information in this description has been found at desert-tropicals.com, llifle.com and cactus-art.biz
| | |
| --- | --- |
| Blooming Season | Late autumn-early winter |
| Common Name | Beestebul |
| Dormancy | Winter |
| Family | Aizoaceae |
| Flower | Pink or white |
| Frost Tolerance | −4 °c  |
| Growth Rate | Fast |
| Hardiness Zone | 9 to 12 |
| Height | 2-3 " |
| Origin | South africa |
| Pot Size | 3.5" |
| Scientific Name | Lapidaria margarethae |
| Shape | Geometric |
| Sun Exposure | Full sun |
Customer Reviews
Write a Review
Ask a Question
04/28/2022
Nathan K.

United States
I recommend this product
This review has no content.
This review has no content.
04/14/2022
Jana B.

United States
Very impressed
I was blown away by what I received. The plant was perfect and healthy. Further, it was planted exactly as shown online, in a good pot with good soil and small stones on top. It was packed so well, not even a single tiny stone was out of place. I'm used to repotting succulents immediately but it was not necessary this time! I highly recommend Planet Desert!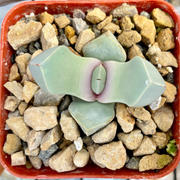 My mom loved it! She has it in her garden!
My mom loved it! She has it in her garden!
05/04/2021
Xiaojing W.

United States
Very cute succulent
Arrived as expected, packed very well. Hope to see the flower soon.