Lobivia acanthoplegma v. roseiflora
(This plant comes in a 3.5" pot. You will receive a very similar plant to the one in the picture. It may or may not be blooming at the time of your purchase. The plant is shipped in its pot to prevent any damage to the roots).
This beautiful cactus has an interesting spine pattern that blooms with very nice and spectacular scarlet color flowers. It also has a white center which contrasts against the colorful flowers.
Sun exposure: Sun, light shade
Origin: Cochabamba to Santa Cruz and adjacent areas, Cochabamba, Bolivia
Watering needs: Water regularly in summer (but do not over water ) needs good drainage.
Propagation: Direct sow after last frost, offsets
Blooming habits: Light to dark pink flowers with contrasting white center. Occasionally white.
Some of the information in this description has been found at desert-tropicals.com, llifle.com and cactus-art.biz
Customer Reviews
Write a Review
Ask a Question
07/15/2021
Nicholas P.

United States
Pleasant Surprise
Cacti from Planet Desert are always efficiently packaged in a way that protects the plants and prevents the gravel from spilling. The 'Lobivia acanthoplegma v. roseiflora' I received already had a nice bud on it and a few days later it bloomed into a beautiful dark pink flower with a white center. Upon further inspection, another bud is on its way, which just goes to show how healthy the plants from Planet Desert are! Very happy with my first Lobivia.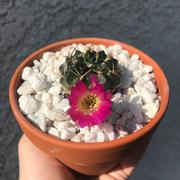 06/01/2021
Ethan L.

United States
Amazing cactus. Great Mother's Day Gift
I bought 4 cacti from this website for Mother's Day gifts for my mom and 3 "grandmas" as an alternative to flowers. It went over great with everyone (except for the fact that I forgot to get one for my aunt), and the cacti all looked spectacular! Great packaging—I feel like the plants could've survived the laziest, clumsiest USPS person in the world. I will absolutely be purchasing from here again (and actually already have). I think this particular cactus is actually the "devil's pincushion" species, but it looks absolutely awesome and was the most inexpensive one I bought. Super satisfied with my purchase.
04/26/2021
Dolores S.

United States
Love It!
I ordered twice now from Planet Desert and all of the cacti were packaged well and no damage. Some of them even got flower buds and now they are fully open and look lovely. Will definitely order again. Thank you Planet Desert!