Lobivia Acanthoplegma Roseiflora 

Karoo Rose
(This plant comes in a 3.5" pot. You will receive a very similar plant to the one in the picture. It may or may not be blooming at the time of your purchase. The plant is shipped in its pot to prevent any damage to the roots).
Lobivia Acanthoplegma Roseiflora or "Karoo Rose" as its common name originates from Mexico. Growing up to 1 foot in height, the plant is winter dormant or we can say it is a winter-sensitive plant. Covered with colorful blooms, this globose-shaped succulent belongs to the Cactaceae family. 
Growth Rate

"Karoo Rose" is a slow-growing succulent. It gives a significant look and becomes the reason for home décor.
Flowering

Light red, yellow, pink, or purple flowers are often seen in the season of spring-summer. Because of their beautiful colors, the houseplant adds elegance to any space.
Watering

Reduce watering and mostly keep it dry. Watering should be done regularly but avoid overwatering. 
Soil

"Karoo Rose" plants grow well in full drained soil. It requires dry soil for better growth.
Hardiness

These plants have a frost tolerance of -12° C or 10.4° F. "Karoo Rose" has a hardiness zone of 9b to 11b. So, for its healthy growth, keep it away from frost. 
Light

This plant likes to be in light shade to grow. These slow-growing plants should not be placed in bright sun for too long as it can cause sunburn.
Propagation

Propagating this plant is quite easy. Sow it directly or simply just cut the stems and put them directly into the soil.
Lobivia Acanthoplegma Roseiflora "Karoo Rose" plants are known for their impressive design. Give this houseplant a try!
Some of the information in this description has been found at desert-tropicals.com, llifle.com and cactus-art.biz
| | |
| --- | --- |
| Blooming Season | Spring to summer |
| Common Name | Karoo rose |
| Dormancy | Winter |
| Family | Cactaceae |
| Flower | Light red |
| Frost Tolerance | -12° C |
| Growth Rate | Slow |
| Hardiness Zone | 9b to 11b |
| Height | 1 foot |
| Origin | Mexico |
| Pot Size | 3.5" |
| Scientific Name | Lobivia acanthoplegma v. roseiflora |
| Shape | Globose |
| Sun Exposure | Light shade |
Customer Reviews
Write a Review
Ask a Question
02/02/2022
Stephanie E.

United States
beautiful ❤️
can't wait til it blooms! I betcha it's going to be beautiful!
01/27/2022
Mike B.

United States
Beautiful Lobivia cactus
Cactus arrived just two days after ordering. Packaging was superb and cactus look great.
11/16/2021
David W.

United States
Happy Cactus Grower
Cactus was well packed and wrapped for shipping. Very nice sized plant received well established in the pot.
07/15/2021
Nicholas P.

United States
Pleasant Surprise
Cacti from Planet Desert are always efficiently packaged in a way that protects the plants and prevents the gravel from spilling. The 'Lobivia acanthoplegma v. roseiflora' I received already had a nice bud on it and a few days later it bloomed into a beautiful dark pink flower with a white center. Upon further inspection, another bud is on its way, which just goes to show how healthy the plants from Planet Desert are! Very happy with my first Lobivia.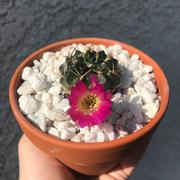 06/01/2021
Ethan L.

United States
Amazing cactus. Great Mother's Day Gift
I bought 4 cacti from this website for Mother's Day gifts for my mom and 3 "grandmas" as an alternative to flowers. It went over great with everyone (except for the fact that I forgot to get one for my aunt), and the cacti all looked spectacular! Great packaging—I feel like the plants could've survived the laziest, clumsiest USPS person in the world. I will absolutely be purchasing from here again (and actually already have). I think this particular cactus is actually the "devil's pincushion" species, but it looks absolutely awesome and was the most inexpensive one I bought. Super satisfied with my purchase.