Lobivia arachnacantha
(This plant comes in a 3.5" pot. You will receive a very similar plant to the one in the picture. It may or may not be blooming at the time of your purchase. The plant is shipped in its pot to prevent any damage to the roots).
Echinopsis ancistrophora ssp. arachnacantha

The species name "arachnacantha" comes from the Greek for "with spider web-shaped thorns". This cactus still generally encountered under its older Lobivia arachnacantha name is a good beginner cactus. It is quite resistant and occasionally gets covered by bright yellow blossoms, that will attract even a non-cactophile spouse.

Recommended temperature zone: Sunset: 16, 17, 21-27, USDA: 9b-12
Frost tolerance: Hardy to 25°F (-4°C), for short periods
Minimum avg. temperature: 50°F (10°C)
Sun exposure: Full sun to light shade
Origin: Bolivia
Watering needs: Regular water in spring to fall
Blooming habits:The large 2" wide yellow flowers open during the day.
Requires to be kept below 45°F (7°C) in winter to flower well in the spring.
Some of the information in this description has been found at desert-tropicals.com, llifle.com and cactus-art.biz
| | |
| --- | --- |
| Blooming Season | Late spring/early summer |
| Common Name | Echinopsis arachnacantha |
| Dormancy | Winter |
| Family | Cactaceae |
| Flower | Gold (yellow-orange) |
| Frost Tolerance | -5°c Or less |
| Growth Rate | - |
| Hardiness Zone | 9b to 11 |
| Height | Under 6 in. |
| Origin | Bolivia |
| Pot Size | 3.5" |
| Scientific Name | Lobivia arachnacantha |
| Shape | Spherical |
| Sun Exposure | Full sun to light shade |
Customer Reviews
Write a Review
Ask a Question
02/08/2022
Kristy K.

United States
Lobivia cactus
The plant was in great condition I love it I would definitely buy it again
11/11/2021
Fusun A.

United States
Best online experience ever!
I love all five cacti that I received three days after I placed the order! This lobivia has many pups and looks in great shape. The pot and top dressing are perfect for now. I will not have to repot it until spring, which is a relief. Many thanks to Ana of Cactus Caffeine for pointing out this nursery and thanks to Planet Desert for restoring the Search bar as soon as I requested it. What a lovely community to be in :-)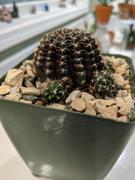 06/16/2021
John R.

United States
Quality service and quality plants, very happy.
Excellent service, the plants arrived very well packed along with detailed care instructions. Will definitely look at adding to our small collection.
09/28/2020
Yvette N.

United States
07/24/2020
Jim P.

United States
good stuff
Healthy plants shipped in pot less work for me