Mammillaria geminispina
(This plant comes in a 3.5" pot. You will receive a very similar plant to the one in the picture. It may or may not be blooming at the time of your purchase. The plant is shipped in its pot to prevent any damage to the roots).
Mammillaria geminispina is a fairly easy plant to grow, it doesn't require any special treatment, but needs as much light as possible. This Mammillaria gets only better looking with age.

Recommended temperature zone: USDA: 10
Frost tolerance: Hardy to 28°F (-2°C)
Minimum avg. temperature: 50°F (10°C)
Sun exposure: Light shade to full sun elsewhere
Origin: Central Mexico (Hidalgo state)
Watering needs: Regular water in summer
Propagation: Seeds, the best clones are propagated by offset.
Some of the information in this description has been found at desert-tropicals.com, llifle.com and cactus-art.biz
| | |
| --- | --- |
| Blooming Season | Summer |
| Common Name | Ming thing |
| Dormancy | Winter |
| Family | Cactaceae |
| Flower | White/red |
| Frost Tolerance | −3.9 °c |
| Growth Rate | Slow |
| Hardiness Zone | 10a |
| Height | 25 cm |
| Origin | Bolivia |
| Pot Size | 3.5" |
| Scientific Name | Mammillaria geminispina |
| Shape | globular or elongated |
| Sun Exposure | Partial shade |
Customer Reviews
Write a Review
Ask a Question
08/17/2022
Danny T.

United States
Beautiful cactus
We recently began collecting cacti and this was our first order here. Our of 4 potted plants only 1 had the rock fall loose from the packaging. Actually arrived in much better condition than I was expecting. They've perfected how they package these for shipping. They all arrived very healthy. Will be ordering more soon.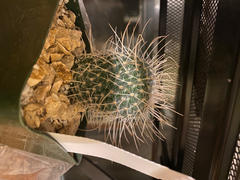 07/01/2022
Nathan

United States
Ruffled feathers
This little guy had the tiniest trouble during shipping because of his longer and more delicate spines but otherwise everything went swimmingly with my order.
08/06/2021
Tom D.

United States
Nice Cactus
Again, I received fast service on my order. Plant was well packaged in pot. Size of cactus was more than I expected and plant was healthy. Will be ordering more once fall is closer.
05/04/2021
Peggy H.

United States
Awesome
Cactus is healthy. As pictured. And came securely packaged. Awesome experience. From ordering to arrival, just an easy process with a great product.
04/14/2020
Diane E.

United States
Thorny one
This is a gorgeous cactus and I have given it a special place to grow. I would certainly recommend this one to others. Thank you for always sending me the best and most healthy plants around.