Neoporteria multicolor
(This plant comes in a 3.5 inch pot. You will receive a very similar plant to the one in the picture. It may or may not be blooming at the time of your purchase. The plant is shipped in its pot to prevent any damage to the roots).
Neoporteria multicolor

Endemic to Chile, these plants live among small valleys and traverse to the sea. The species is frequent but not abundant in sclerophyllous forest and thorny scrub on rocky soils, the populations are severely fragmented, and illegal collection is causing a continual decline in the number of mature individuals. Furthermore, land conversion for agriculture and urbanization is degrading the habitat surrounding the species.

It is a summer-growing species. Water regularly in summer, but do not over-water (rot prone). It needs good drainage and very a porous potting soil Keep dry in winter. Feed with a high potassium fertilizer in summer.
Need Full sun to bright shade. Frost Tolerance: -4°C.
Some of the information in this description has been found at desert-tropicals.com, llifle.com and cactus-art.biz
Customer Reviews
Write a Review
Ask a Question
10/28/2020
Brian K.
United States
Amazing Planet Desert
I have not ordered plants on line too frequently. This was an utterly amazing experience! I cannot imagine having to ship plants. All the plants arrived precisely as they looked on the website and the amazing packing job was just crazy! To ship live plants in soil is such a challenge. There was very little soil loss in the packaging. I am so excited to order again in the future. Oh and the bonus cactus I was sent was very large and had buds on it! Nuts!
08/19/2020
Katherine M.
United States
Amazing cacti
This little guy was completely healthy and has so much personality. Yeah I know I'm a goofus for saying a plant has personality but you should see it in its little sombrero!
07/19/2020
Barb
United States
07/16/2020
Kimberly N.
United States
Urchin-like
I was immediately drawn to this cactus for its unusual looks. My plants arrived quickly and in amazing packaging. All were potted with a gravel topper, and I was able to open and unwrap each one in my home office with little spillage of gravel or soil. It has been watered twice and given morning sun. I'll be moving it to afternoon sun to see if I can darken up some of the green areas, but overall this is a happy, healthy cactus. I will be ordering from Planet Desert again!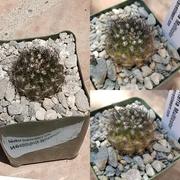 07/16/2020
Wendy D.
United States
beautiful
my overall experience was great .